Escape Winter: This Private Island on Airbnb is Cheaper Than You Think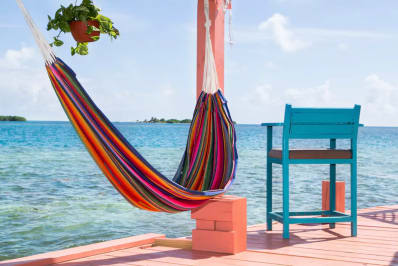 (Image credit: Airbnb)
If you can't deal with another forecast of subzero temperatures or double-digit snow accumulation, it might be time to book a tropical escape. Good thing there's a private island on Airbnb that's not much more than staying at a hotel.
While buying a private island can be quite cost prohibitive, staying on one is much more affordable. The same goes for Bird Island in Belize.
The property is surrounded by a coral reef, and is perfect for swimming, snorkeling, tubing, and kayaking as a way to explore the island's natural beauty (there's also a hammock for those more inclined to snooze than swim). Want more than that? There's an outdoor shower, a grill, a sun deck, and a lookout tower. The generator is solar and wind powered, and for those who can't totally disconnect, the island does get wifi and local phone service.
Bird Island's guest house has three bedrooms with three full beds plus a sofa bed, and starts at just $395 per night for two people (additional people are $100 per night). According to Google, while 3-star hotels in the mainland town of Placencia average $88 per night, 5-star hotels are more like $490, so your own island seems like a pretty sweet deal in comparison.
You've got to come prepared, though—the island is 20 minutes from the mainland by boat, so you have to stock up on food and booze before heading out (sadly, no Seamless out in the Caribbean Sea). The listing does specify that the owners keep the pantry well-stocked with the basics like flour, oils, spices, and necessities like garbage bags and paper towels. If you'd prefer to catch your dinner, the island is surrounded by "constantly marauding" schools of snapper and jacks.
Bird Island has excellent ratings on Airbnb, and has been featured in the company's 2016 ad campaign.