Amazon Alexa Now Comes With Your Hotel Room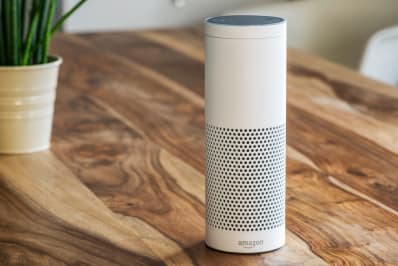 (Image credit: Seewhatmitchsee / Shutterstock.com)
How did we live before Amazon? You can order just about anything on Amazon and now that there is Alexa, you can ask her to do just about anything for you. Need the weather ASAP? She's got it. Need an alarm or a reminder? Alexa is on it! You can even order things off of Amazon using Alexa. Or, if you just like to listen to music, she's there as well.
But when you go on vacation or go away for business, you can't bring home with you to your hotel. Or can you? Now you can have your Alexa with you when you stay at select hotels! Seriously, traveling has never been this easy.
Hotel guests staying at Westin, Marriott, Regis Hotels & Resorts, Autograph Collection Hotels or Aloft hotels will have the pleasure of having an Amazon Echo in their room this summer. The program is called Amazon for Hospitality and it is meant to make life simpler for hoteliers. Amazon released the exciting news in a press release.
Hospitality providers can now easily deploy voice-first experiences with Alexa to help increase guest access to amenities and use provided tools to improve employee productivity
Guests can ask Alexa to order room service, request housekeeping or call the concierge for dinner recommendations without ever picking up the phone
Alexa for Hospitality works with major property management, ticketing, and guest engagement solutions to make Alexa integration simple for hotels
It might seem like a bit much to ask Alexa to call for housekeeping, but honestly, it probably makes both your life and housekeeping's life easier! We wish we could do this at home. And calling for room service? That sounds like a dream!
Marriott International's Vice President of Customer Experience Innovation, Jennifer Hsieh said in the press release:
---
"Marriott has a long track record of innovating for our guests, and we're thrilled to be among the first to offer Alexa for Hospitality. So many of our guests use voice technology in their home, and we want to extend that convenience to their travel experience."
---
Not only can guests get room service, they can ask Alexa important questions, like what time the pool opens and closes! Hotel guests are able to ask a variety of questions that will make their stay easier and more comfortable.
H/T: Co. Design