Alexis' Home in the Marina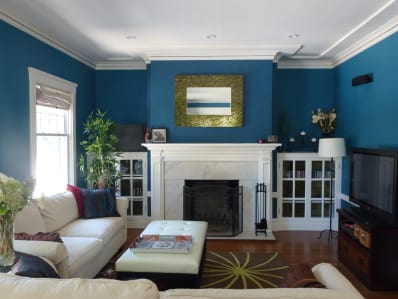 (Image credit: Submitted by Alexis)
Name: Alexis
Location: Marina District, San Francisco
I bought my place in the Marina District of San Francisco two years ago. I'm a graphic designer with a degree in Digital Graphic Design so I used Photoshop to create my color scheme. I've always been drawn to Asian art and I appreciate the clean, simple Asian aesthetic.
(Image credit: Submitted by Alexis)
I did a lot of work on my place over the span of a year – I stained the hardwood floors, painted every wall, changed the bathroom counter and sink, installed overhead lighting in the living room, lined the living room built-in cabinets with cool fabric, installed custom blinds, and I even hand-painted a band of tiles in my kitchen which took forever but it was worth it.
(Image credit: Submitted by Alexis)
My favorite components of my place are my dining room wallpaper, an amazing Japanese antique tansu in my bedroom, and my bold teal living room walls. I'm very proud of the way my place turned out and putting it together was certainly a labor of love!Thanks, Alexis!
• Interested in sharing your home with Apartment Therapy? Contact the editors through our House Tour Submission Form.