Alison's Before & After Photos: A Newly-Shared, Freshly-Cured Kids Room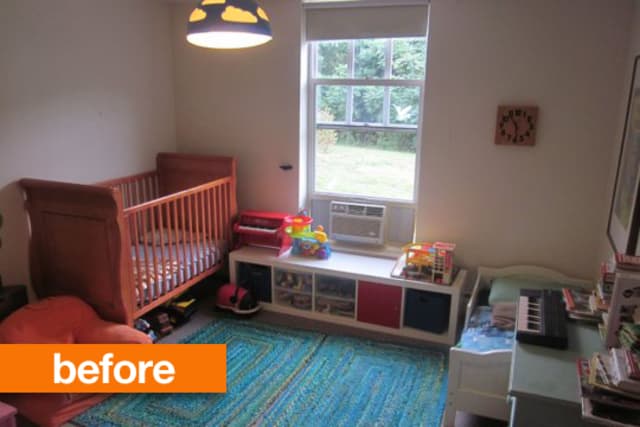 Ever since Ivy moved in with Ralph their room has felt like two piles of stuff thrown in together. Big, messy piles. After a month of outboxing, cleaning, and a little bit of shopping we are at the finish line: at last I finally feel like Ralph and Ivy truly have one, clean, unified room.
Without further ado, here it is!
It just seems so much bigger. The most drastic improvement to the room, honestly, was getting rid of clutter. The unseen element of this month's cure for me was cleaning out their closet to make room for large toys that were peppering the floor and didn't actually need to be out on display all the time. I also bought two elfa baskets for underneath Ralph's bed (the only storage I could find shallow enough), which now house his favorite toys: trucks and puzzles.
My favorite things in the room are my little DIY touches I added in yesterday when I was hanging the art. I strung up a few origami cranes for Ivy, drew a truck for Ralph on their little chalkboard, and made some triangle stickers for the Expedit drawers out of contact paper. I am still kicking myself about not making a decision about those triangle wall decals I was pouring over earlier this month, though I wonder now if the room would have looked too cluttered with them in the end?
I've taken out the pink play kitchen for now (it's waiting to be stripped of paint) and replaced it with a "reading corner", all I needed to do was add three more IKEA spice racks and that was sufficient to hold all of our books.
Here's Ralph enjoying his new comfy spot!
Most of the stuff I added to the room were things I found around the house - cushions I found in our linen closet, sheets, blankets. I painted our kitchen step stool yellow for a bedside. I used photos, postcards and art I was saving in "memory boxes" for new pieces of art, and even made a lampshade from a lamp I was throwing out.
I did make one crazy purchase, though: an $85 bedside lamp! Eek! But it fit my brief perfectly: modern looking for my taste and rabbits for my rabbit-fanatic son. I knew he would like it, I didn't expect that Ivy would also obsess over it. She pats it and calls it "babbit". Their faces on seeing it unboxed and put on the bedside: so worth it. Even though it was such a small thing to buy, I knew I had spent the money in the right place.
Stuff I actually bought for this project:
Dog pillowcases: Land of Nod
Rabbit Lamp: Sunday In Color
Polka Dot Curtains: Urban Outfitters
Super shallow under bed storage: Container Store (the $17.00 option)
Turquoise velvet cushion cover: IKEA (found this color in the as-is)
BEKVAM spice racks: IKEA
Secondhand crib: Craigslist (this one IKEA)
Now, just look at these two. I'd say they're pretty happy hanging out in here. What do you think?
Thanks for reading, friends!
Apartment Therapy supports our readers with carefully chosen product recommendations to improve life at home. You support us through our independently chosen links, many of which earn us a commission.