I Fight Allergens Year-Round in Florida. Here Are the 6 Cleaning Products I Swear By.
We
independently
select these products—if you buy from one of our links, we may earn a commission. All prices were accurate at the time of publishing.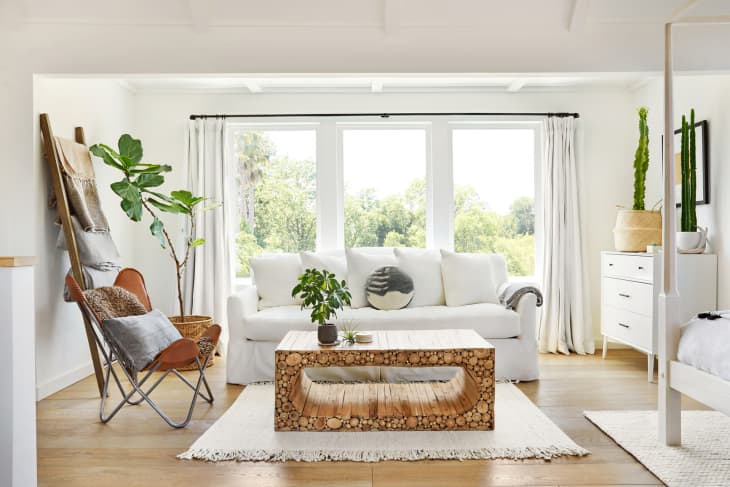 Ah, spring, the season of wondrous beauty that has inspired poets and painters for centuries. One thing these artists generally fail to acknowledge in their romanticized works? All of the sneezing, itching, and watery eyes that accompany earth's awakening. That's right, I'm talking about allergy season. Except where I live in Florida, it's more like a year-round struggle than just a springtime thing.
Since both of my children as well as my husband and I suffer from seasonal allergies, I've become something of an expert at trying to reduce the number of allergens in our home. After some trial and error with cleaning products that claim to cut down on common allergens, I've found a few things that make a difference for my family. While we haven't been able to part ways with our bottle of antihistamine completely, here are a handful of helpful products that have us reaching for it less frequently.
This may seem like an obvious product for an allergy sufferer to own, but truthfully I was skeptical of the efficacy of air purifiers for the longest time. However, after seeing my sister changing the filter on hers (and the amount of icky stuff it had pulled from the air), I shifted my mindset and ordered this air purifier on Amazon. What I like about it is that the filter can trap particles up to 0.3 microns in size, which is small enough to capture dust mites, mold spores, pollen, smoke, and pet dander — and up to 99.97 percent of airborne particles. 
We have a unit in each bedroom and find the noise it emits to be minimal, but it does have a sleep mode offering near-silent operation (we all kind of dig the white noise effect, though). Its low-key design allows it to blend in fairly easily with our decor, as opposed to being an eyesore like bulkier units. We now wake up with fewer allergy symptoms since we started using it. There's no more need to keep a box of tissues on the nightstand for morning sneeze fits.
With three cats in my home, there's a steady supply of cat litter, fur, and pet dander tracked across my floors, not to mention a trail of pollen-tinged footprints my two kids frequently leave from the back door into the kitchen. That's a pretty big swirl of allergens to contend with regularly! To keep the allergen levels to a minimum, I have this HEPA-filtered vacuum, which I use twice a week in high-traffic areas. 
Its greatest attribute is its five-stage HEPA filtration system that can capture 99.99 percent of dust particles as small as 0.1 microns in size. However, I also love that it's a lightweight stick vacuum with multiple attachment heads, and it's cordless, so I can use it anywhere without being tethered to a cord. It has excellent suction power, and I use it to vacuum wood floors, area rugs, stairs, furniture, blinds, ceiling lights, windows, baseboards, and even my car.
Out of all the cleaning and allergen-reducing products I own, my favorite one hands down is my PurSteam 10-in-1 steam mop cleaner. There's something so satisfying about seeing how clean my floors get with a few simple passes of this cult-favorite product. It cuts through dirt and grime like butter, but more importantly, it uses 212-degree Fahrenheit steam to sterilize surfaces without the use of harsh, allergy-triggering chemicals. One study also found steam cleaning to be very effective at killing dust mites, which are one of the more common allergens found in homes.
I have original hardwood floors in my home, and I like that this mop has adjustable steam levels to not harm the wood (just make sure your hardwood floors are sealed — it's not meant for use on unsealed floors). The plethora of attachments it comes with also allows me to steam virtually anything in my home. I've used it to steam away mold and mildew on my shower tiles, sterilize my jute rugs, clean and de-wrinkle my curtains, and sanitize my mattresses, in addition to cleaning my floors. In short, I'll never be without my steam mop cleaner again!     
When I first discovered I was officially allergic to dust mites (the allergy skin prick test is no joke!), my allergist made me watch a video on the importance of encasing your mattress to protect it from dust mites. Though the video was definitely on the cheesy side, I did take his advice and ordered this mattress encasement for my bed. It's like a giant pillow case that zips around my entire mattress and keeps any dust mites or bed bugs from taking up residence.
I like that it's also waterproof, so it protects my mattress from any potential spills or stains, which comes in clutch with two small children as well as pets who like to hang out on my bed. Other waterproof mattress protectors that I've owned in the past produced an annoying crinkly noise whenever someone moved in the bed, but this one is pretty noise-free. It's also soft and doesn't cause me to sweat at night.    
Our furry feline friends are treasured members of our family, but the amount of pet hair they leave on rugs and furniture is not one of my favorite things about them. Even though we've provided them with adorable pet beds, they prefer to nap in our living room sectional. I specifically sought out a slipcovered sectional, so I could remove the cushion coverings and wash them regularly (helpful for reducing allergens). I'd usually vacuum the cushions first to remove any dirt, but I noticed when I would take the slipcovers out of the washing machine, they'd have patches of wet fur and dust stuck to them in various places. And when I'd try to remove them, it'd create a dirty smear across the fabric. 
After seeing an influencer with cats singing the praises of her pet hair remover, I bought this one and now use it to remove pet hair before I wash my slipcovers. It has eliminated the problem of wet fur and dust sticking to the fabric. I also use it on other upholstered furniture as well as small area rugs, and I find it to be way more effective at removing pet hair than vacuuming alone. 
I used to use paper towels when cleaning, but in an attempt to cut down on waste, I switched to microfiber cloths for some of my household tasks. Their tiny, closely-woven fibers are effective at picking up dust and other allergens, and they are also capable of holding onto them, whereas other fabric cloths or paper towels can kick particles up into the air while cleaning. The ones I have claim to remove up to 99 percent of bacteria, allergens, and dust from all surfaces.   
The fabric is super soft, so they don't scratch any surfaces, and they also don't leave behind any streaks or lint when I use them to clean mirrors and windows. They also happen to be very effective at picking up dust, especially from ceiling fans, blinds, behind the television, and the pot rack hanging over my stove. After I'm done cleaning, I toss them into the laundry with my regular load of towels, and they're good to go again.