I Found the Couch of My Dreams and Now I Practically Live on It (Bonus: It's on Major Sale!)
We
independently
select these products—if you buy from one of our links, we may earn a commission. All prices were accurate at the time of publishing.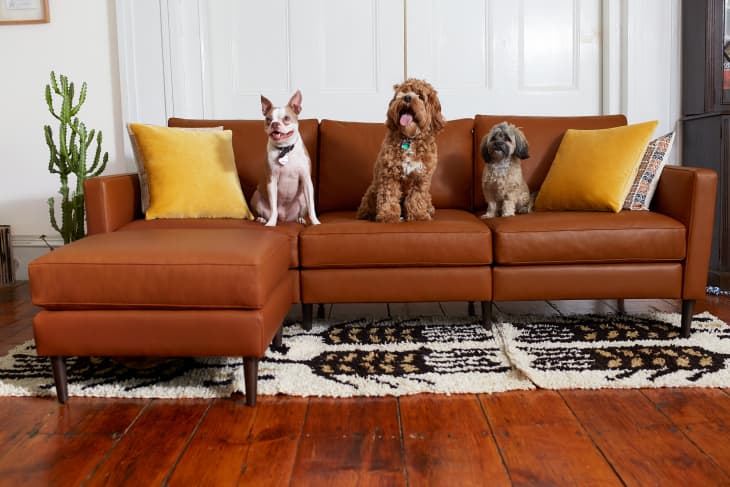 I wasn't in the market for a new sofa. But then stay-at-home orders were issued and this rather simple piece of furniture suddenly felt like the center of my universe tiny apartment. Once actively used only on weekends or for propping unfolded laundry, my three-year old IKEA FREIHETEN sleeper sofa was now also doubling up as my WFH office—and frankly, it wasn't up for the job. The hard base wasn't conducive to long hours of sitting and the scratchy fabric left rashes on any exposed skin. Since I know I'll continue to stay home for the foreseeable future, I decided it was time to upgrade to a proper sofa with cozy cushions, smooth, buttery fabric, and 100 percent nap-taking potential. That's where Allform's sofa came in.
For the unacquainted, Allform is a new DTC furniture brand that creates highly modular sofas that change with your needs. As someone who's lived in four apartments during my five years of floating between New York City and Jersey City, the customization aspect was hands down the biggest draw. For instance, I picked the 5-Seater Corner Sectional that can be set up in an L- or U-shape configuration, depending on the length of your wall or the space in your living area. Since I have less wall space, I set up the couch in a U-shape, which gave me an extra-deep corner seat in the middle of the couch that's ideal for afternoon snoozes. If I move to a bigger space, knowing that I have the option to switch to L-shaped seating (with an extra seat to the left or right) is reassuring and exciting (old furniture, new vibe!).
Modularity aside, another big pro of Allform's sofa is that it comes together in less than two hours (or the length of four episodes of "The Office," to be precise!). My sofa was delivered in eight big boxes labelled with numbers that serve as a visual cue to line up the boxes in order. The first box had a detailed booklet with simple instructions, along with screws, panels, and sofa legs. Given my history of putting together a whole apartment worth of IKEA furniture, I had a tool box and drill ready to go. But surprisingly, I didn't need them. The assembly sort of works like Tetris, with large screws that just need to be twisted into large panels that hold the sofa pieces together. Once I found my rhythm, the couch came together effortlessly.
I have had my sleek and stylish Allform sofa for over two months now, and I'm not exaggerating when I say that my husband and I practically live on it. We are natural couch potatoes, and these past few months have only heightened our inherent instincts. We use the sofa as our office from 9-6 p.m., and once the laptops shut down, the couch transforms into a chill zone where lounging is 100 percent encouraged. In fact, the couch has also been a comfy bed to my little brother, who was forced to evacuate his campus housing and used it as his crash pad until he was able to get a flight back home.
Yes, my Allform sofa is a pricey investment, but it's one I know will adapt to my changing needs and I will enjoy for years. It's made using stain-resistant, performance-quality fabric that's built to withstand the rigors of active, messy households (I picked the almost-white Sand color, which can be spot-cleaned with a solvent-based fabric cleaner). And since Allform has several other seating options available (single seaters through eight seaters!), I have the option to buy extra seats and expand the couch should I ever move into a huge house.
If you're considering trading your battered sofa for something more comfy and durable, Allform is a great option. And right now, they're offering 20 percent off sitewide for Presidents Day. So besides scoring a cozy new couch for less, you can also be rest assured that you're supporting a brand that's giving back to the community.