Are Diamonds Really Forever? These Alternative Engagement Rings Say No
We
independently
select these products—if you buy from one of our links, we may earn a commission. All prices were accurate at the time of publishing.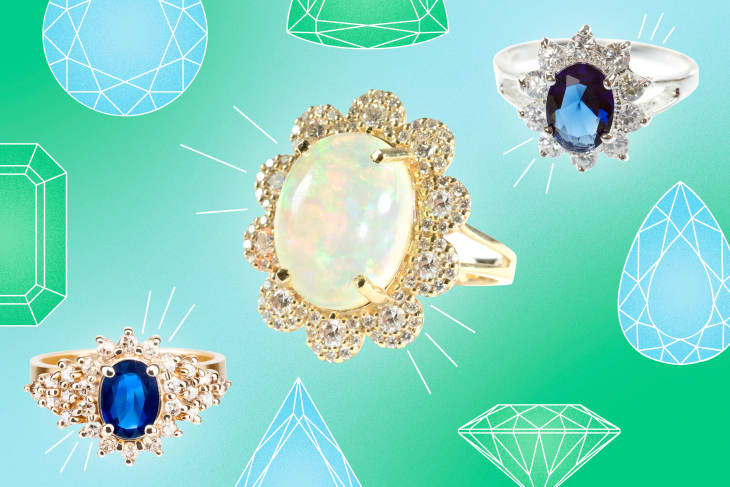 The period between Thanksgiving and Valentine's Day brings in so many proposals, it's often known as engagement season. Just scroll through your social media feed, and you're bound to see some bling. And it's more and more common for that rock to be made of something other than diamonds.
Alternative engagement rings—ones without diamonds, or ones that feature other gemstones alongside diamonds—have been trending for a few years now, and as couples look for unique ways to symbolize their love, they are eschewing the the classic sparkly bauble. More people are opting for colored gemstones with unique cuts and designs, along with bands fashioned from unusual materials, according to a study recently conducted by wedding registry site Zola.
According to Zola's recent study, which surveyed married and engaged couples, one-third of respondents prefer stones other than diamonds. The sapphire was the most popular non-diamond gemstone, while emerald and the diamond's crystal doppelgänger moissanite were also top selections. 
The iridescent opal also made the cut. Symbolizing love, passion and loyalty, this gemstone might be a draw for couples who are looking for a stone with some meaning behind it. Proof that it's gaining in popularity? Google data shows that the opal was the top trending search for engagement rings in 2019.
"According to our survey, cost and style are the most important to couples when choosing an engagement ring," says Jennifer Spector, Director of Brand at Zola. "Diamonds come in all shapes, sizes, and price points, but stones like moissanite, sapphire, and emerald are another less expensive option for cost-conscious couples."
Aside from gemstones, bands themselves are also moving in an alternative direction, as 38 percent considered a band made from a unique material other than metal, according to the Zola study. And Google's "Year In Search" data reports that silicone bands were a significant ring trend in 2019.
"People want their rings to reflect their personal style, and for some people traditional metals are limiting in comfort and design," says Spector. "Silicone rings are especially popular for people who are super active or work with their hands like nurses, doctors, and electricians."
Of folks that chose alternative rings, 36 percent in the Zola study opted for silicone bands, while moissanite, wood, and tattoo followed suit. The study also shows that 10 percent of couples wore no rings at all.
"Wedding planning today is totally different than in generations past," says Spector. "Couples today are getting married later in life. The majority pay for a portion of their own wedding, along with investing in other aspects of their future, like paying off debt, purchasing a home or saving for travel. Couples are also passionate about world issues, and they want those views to be reflected throughout their lifestyle and the products they buy."
If diamonds are your best friend, though, rest assured, they aren't going out of style. Zola says the classic stone is still the most popular choice for engagement rings—and it's unlikely to change anytime soon. When it comes to rings, there's room for both traditional and trending—it's up to the one who's wearing it.