Alternatives To Typical Christmas Tree?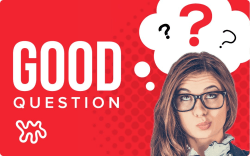 Editors Note: SORRY! This question got lost in the queue, so it's publishing after the holidays. We're still running it in hope of helping out folks in a similar situation next year!
Q: Christmas is a big deal in my house. Do you all have any festive suggestions for alternatives to a typical Christmas tree? I have a destructive 16-month-old who walks like a drunken chimp and is liable to pull a Christmas tree down. When I floated the no-tree idea to my six-year-old, he expressed worries that Santa won't know where to leave presents if there is no tree...
We like having a tree, but we dread the thought of having to police the tree at all times (we have a tiny home and blocking it from little hands is not a viable option). This is also very likely the last year my older child will believe in Santa, so a little bit of magic would be great. Would love the opinion of your creative readership. Thank you. -Sent by Rebecca
Editor: Thank you for the great mental image! Readers, how can Rebecca provide a bit of holiday light and magic for the kids without ensuring the imminent destruction of the aforementioned holiday light and magic? Please help!
• Have a question for our community? Send us yours with a photo or two attached (questions with photos get answered first).