Why You Should Clean with Aluminum Foil (Plus, 9 Other Ways to Use It)
We
independently
select these products—if you buy from one of our links, we may earn a commission. All prices were accurate at the time of publishing.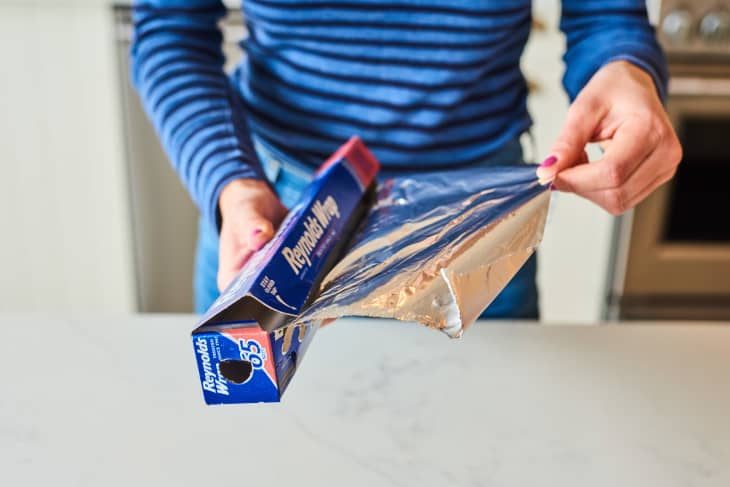 From storing leftovers to lining baking sheets, aluminum foil is a multitasker in the kitchen — and one you likely keep on hand in a nearby drawer. But chances are, you're actually underusing this inexpensive kitchen essential. There are lots of creative ways to use foil for making everything from cleaning to food storage far more efficient — it might actually blow your mind.
Whether you just stocked up or you're on the last few feet, you're going to want to get your roll of aluminum foil out for this. Here are 10 clever uses for foil that can transform your kitchen routines.
Anytime you'd use steel wool, such as on pots and pans with dried-on food, try using a crumpled up ball of aluminum foil to scrub away stuck-on grime. Bonus points if you reuse foil from something else to extend its life and reduce waste! (Just don't use it on nonstick pans.)
2. Line cabinets and drawers. 
On top of protecting your kitchen storage spaces from pesky crumbs and spills — just toss the lining when it's dirty — foil reflects light, making it that much easier to find what you need in the corner of a dark cabinet. 
3. Improvise a pastry bag. 
Decorating a cake? Create a cone or tube of aluminum foil, fill it with frosting, then toss it out when you're done. Easy-peasy, and plastic-free!
If you don't have a funnel on hand to pour ingredients into small containers, simply make one with a piece of aluminum foil. Heavy-duty foil, or a few layers of thinner foil, works best.
Coordinating a multi-course meal is hard, even for expert cooks. If your roasted veggies are finished before your main course, wrap the dish in aluminum foil to hold in the heat until it's time to eat. Then, use the same foil to save your leftovers!
6. Line an air fryer or Instant Pot. 
Air fryers, Instant Pots, and slow cookers make cooking a breeze — then you have to clean them. Skip the scrubbing part and line the inside with a layer of foil, so your food sits on top of it. Simply toss it (or reuse it for another meal if it didn't get dirty) and your cleaning is done.
7. Soften hard brown sugar. 
If you haven't used your brown sugar in a while, it may be stuck together in a big, hard ball when it's time to bake. Soften it by wrapping the lump in foil and baking it in your oven for five minutes at about 300 degrees Fahrenheit. 
Along with holding heat in, heavy-duty aluminum foil can hold air in, so it's great for keeping freezer food flavorful. Try wrapping leftovers, or even bread and rolls, in foil before you pop them in the freezer.
9. Restore shine to silverware. 
Silverware seen better days? Foil to the rescue. Line a pan with aluminum foil, fill it with cold water, then add a few teaspoons of table salt along with your tarnished silverware. Remove the utensils five minutes later, then rinse and dry thoroughly. You can do the same by putting a ball of aluminum foil in with silverware when you run your dishwasher. They'll be shinier than ever!
Grill and oven grates require lots of elbow grease to deep clean — that is, unless you use foil. Grab a sheet, make a ball, and use it (along with some soap and water, if needed) to scrub off burnt-on bits from your grates.