Alysia's Stunning Vintage Sanctuary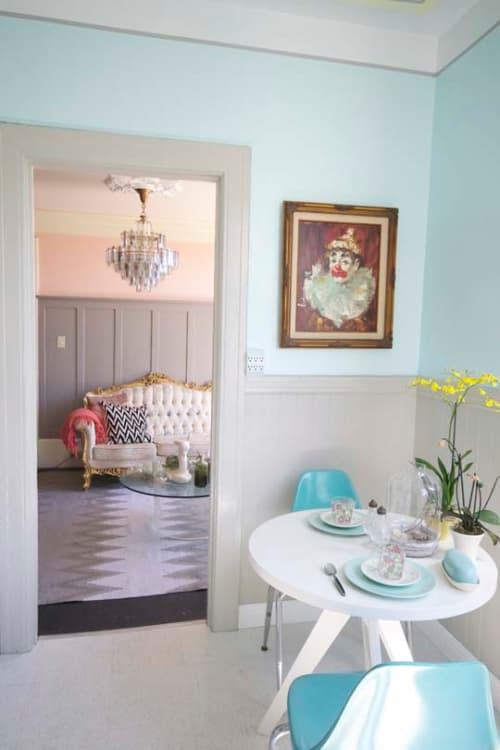 Name: Alysia Sebastiani
Location: Duboce Triangle, San Francisco
Size: 800 square feet
Years lived in: 1.5 years; Rented
I'm going to keep this intro short because I think the photos of Alysia's home and her story behind it speak for themselves. But I will say this is probably my favorite tour yet. I don't quite have the same eye for vintage that Alysia does (my home is mostly minimal and modern), but I certainly envy her ability to combine pieces from different eras into a harmonious setting, one with clever and surprising treasures at every turn. I seriously wanted to move right in.

Thanks to Christopher Reynolds for tipping me off to Alysia's apartment — if you caught his tour last year, you'll notice a similar passion for all things old and feathery that's shared between these two best friends and business partners in the landscape design firm Reynolds and Sebastiani. Enjoy, and please add your thoughts (and thank Alysia for sharing!) below.

Apartment Therapy Survey:


My Style: Let Them Eat Cake.

Inspiration: I would have to say my hippy parents. I grew up on a remote 1860s homestead in Annapolis, California. The house used to be a barn — the walls were made out of old grape stakes with dried moss and lichen all over them. Each room had an eclectic collection of antiques thoughtfully placed throughout. There was also a unique collection of taxidermy in each of the rooms — my family often hunted off the land. It was a harmonious combination of new, old, and rustic. I never really appreciated their aesthetic until I started to find my own style and realized how much of an influence it had on me. It is me. Thanks mom and dad for providing me with such an interesting point of view through your eyes and now through mine. Mwah!

Favorite Element: My grandmother's portraits of her friends hanging in my hall. At least I think they are of her friends. I really don't know who they are. She was a painter and artist and always said she never did portraits. When she passed, I found them in an old sketchpad of hers and fell in love with them. They are incomplete, raw and a little creepy. Her signature only made it on one of them.

Biggest Challenge: Trying to make something out of nothing. I really wasn't sure that even I could make something out of it. The apartment hadn't been painted in about eight years. All the walls and moldings were head-to-toe beige. The carpet was a similar color and was really stained, so I ripped it out upon my arrival. There were moldings missing, paired with some other ill-repaired elements. My landlord agreed to let me remodel in exchange for some money off my rent. It me took me a minute to realize I had made the right decision. Now, I'm afraid they will have to drag my dead body out in order for me to leave. It really feels like home!

What Friends Say: "Um. Excuse me. Where did you get that couch? Gross! I love it!" Well, some of them love it...

Biggest Embarrassment: Probably the gigantic water heater sitting in my kitchen. Every time, without fail, someone walks into my kitchen and says " Wow, I really love what you have done with your kitchen, but god! Too bad about that water heater." Um, yeah, thanks.

Proudest DIY: The aviary my best friend, Christopher Reynolds, and I made out of an old hutch I had. We found it at the Salvation Army. It was originally a reddish brown color with bad (not good) seventies hardware on the drawers and gold pinstriping in a diamond pattern on each side of the glass panels. We loved the classic lines of it and knew we could bring it in a little different direction with some paint and new hardware. As much as I wanted to keep the pinstriping, I realized it had already had its heyday and it was time to go. We painted it black and I picked up some vintage glass pulls from Ebay. There you have it. The rest is history...

Biggest Indulgence: That's a tough one. I'm pretty thrifty... I guess it would have to be my glass desk. It's one of the only new things in my apartment, and I rarely use it. Sure is purdy though. I really do get joy out of looking at it.

Best Advice: Go with your heart. Don't be afraid. It's OK to make mistakes. Sometimes you have to live with it to know if you're gonna love it.

Dream Sources: Salvation Army

Resources of Note:
PAINT & COLORS
All Benjamin Moore
LIVING ROOM COLORS: Ceiling: Peach Cooler/Walls: Pink Powderpuff/Trim: Marble White/Wall Paneling: Herbal Escape
KITCHEN COLORS: Ceiling: Outersphere/Walls: At Sea/Trim: Brushed Aluminum
BEDROOM COLORS: Ceiling: Muslin/Walls: Grieg Avenue

ENTRY
Wallpaper: Allan and Roth Classic Collection
Navajo-inspired pink-and-green runner: Salvation Army
Portraits: By Grandma Dalma
Anaglypta and Trim: Lowes

LIVING ROOM
Couch: Urban Ore

Coffee Table: CraigsList


Area Rug: West Elm

Hutch (now aviary flight cabinet): Salvation Army

Vintage Bird Cage: Animal Company

Trim to replace window casings, plate rail and crown where it had been removed: Lowes

Lucite and smoked glass chandelier: Ebay
KITCHEN
Cabinets: Found in basement downstairs. They were part of built-in hutches that were in each of the units in my building and had been torn out years ago.

Dining Chairs: Carousel on Mission St.

Flooring: Lowes

Dishes: Vintage/Ikea
Deer antlers: Grandma Dalma and Grandpa Gene. My Grandpa was an avid hunter.
BEDROOM
4-poster bed frame: Salvation Army

Duvet cover: Ikea

Accent pillows: West Elm

Desk: West Elm

Woolly pocket: SF Foliage

Ducks: Grandpa's hunting trophies

Dresser: Grandma Dalma's

Lucite desk lamps: Target

Grandmother's wedding photo
Thanks, Alysia!

(Images: Theresa Gonzalez)
• HOUSE TOUR ARCHIVE: Check out past house tours here.
• Interested in sharing your home with Apartment Therapy? Contact the editors through our House Tour Submission Form.
• Are you a designer/architect/decorator interested in sharing a residential project with Apartment Therapy readers? Contact the editors through our Professional Submission Form.