Win: Amana High-Efficiency Washer & Electric Dryer — a $1,128 Value!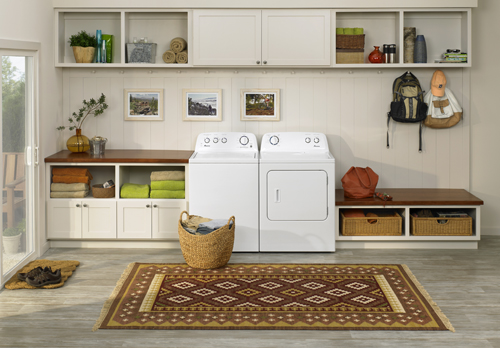 Items: Amana® High-Efficiency Washer & Electric Dryer
From: Amana
Value: $1,128
Keeping clothes clean is one of life's constant tasks, and an efficient laundering system ensures quick, easy, and effective results. Whether you've been planning (or simply dreaming) to upgrade your current appliances, here's your chance! Amana is giving away their newest high-efficiency washer and electric dryer to one lucky Apartment Therapy reader! This washer / dryer combo will be a welcome replacement in any laundry room.

Enter now for your chance to win!
Amana focuses on making smart appliances that improve the basic tasks of everyday life. And the high-efficiency washer's ENERGY STAR® rating means lower utility bills and less water and energy usage. Other features include:


Stainless Steel Wash Basket.


Meets CEE Tier 3 Standards, which is the highest tier available for washers.


Low-Water Wash System with Impeller.


12 Wash Cycles.


While the electric dryer features a wide opening side swing door, interior drum light, 12 Dryer Cycles, and an Energy Preferred Cycle. Enter today to get a chance to upgrade your laundry room, simply and efficiently!
How to Enter
Please fill out the form below for your chance to win.
The contest begins Thursday, November 1, 2012, and ends Friday, November 16, 2012, at 11:59pm E.T. We will choose one lucky winner at random (Check out the Official Rules here).
This form has been deactivated and is closed for any further submissions.
Looking to upgrade other household appliances? Learn more about Amana's line of products at amana.com.