Amazon and Etsy Are In a War to Win Your Handmade Holiday Gift Dollars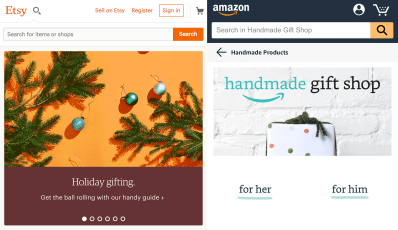 (Image credit: Etsy & Amazon)
Etsy is facing some stiff competition from Amazon this season for your holiday gift purchases—and not in a general sense. The online retail behemoth has expanded its handmade offerings and created a gift shop to go head to head with the OG maker marketplace.
For conscious consumers, the mantra to "Vote With Your Dollars" has always meant using purchases (no matter how small) to show big retailers how much we want to see ethical and fair trade production, support for small businesses and makers, and other modern values reflected in their brand — and how much it could mean for their bottom lines.
Amazon— always ready to swoop in and disrupt markets ripe for change — was listening intently when Etsy went through an identity crisis a few years ago and began losing its grip as the top marketplace for makers, creating and now recently expanding Handmade at Amazon.
When Etsy announced its decision to loosen the reins on its rules and policies for handmade designations in late 2013, leading up to its IPO in 2015 — a move that HuffPo called "shifting their loyalty from the maker to the shareholder" — die-hard buyers and sellers everywhere lamented the impending doom and gloom for a marketplace and community that had built its reputation and thriving business as an oasis for authentic vintage and hand-crafted merchandise.
What once was a destination for a tightly curated shopping experience, luring conscious customers with a certain set of ethical and stylistic values designed to support authenticity, soon became flooded with Made in China and other questionably manufactured (often design-knockoff) goods — chronicled in detail from the Etsy seller perspective by WIRED writer Grace Dobush in this February 2015 piece: "How Etsy Alienated Crafters And Lost Its Soul."
So Amazon seized that opportunity — and quickly. Starting in 2014, the e-commerce behemoth began recruiting handmade sellers and bloggers (and their Instagram followers) to Handmade at Amazon, helped along soon after launch by a big push and celebrity partnership in the form of a handpicked collection from Martha Stewart's American Made.
But in the biggest move, Handmade at Amazon announced this week that it has significantly expanded gift shop — including Halloween costumes, wedding items, and other celebration supplies — just in time for the 2017 holiday shopping season, sending Amazon stock prices up and Etsy stock prices tumbling. (Etsy had already laid off 22 percent of its staff earlier this year due to investor pressure.)
For makers and handcrafted sellers, listing goods on Amazon offers something that has significantly waned on Etsy since the 2013 shifts in policy: Traffic and eyeballs, which are mission critical to selling and making a living from one's art or craft. Instructables has a thorough list of pros and cons, and tips for making the shift from Etsy to Handmade at Amazon, in this popular post.
Alternative independent marketplaces for makers — like The Grommet, which was recently acquired by Ace Hardware — are also seeing a resurgence in both popularity and profitability in the wake of Etsy's changes.