Amazon's Cozy Burrito Blanket Will Make You Feel Like Your Chipotle Order
We
independently
select these products—if you buy from one of our links, we may earn a commission. All prices were accurate at the time of publishing.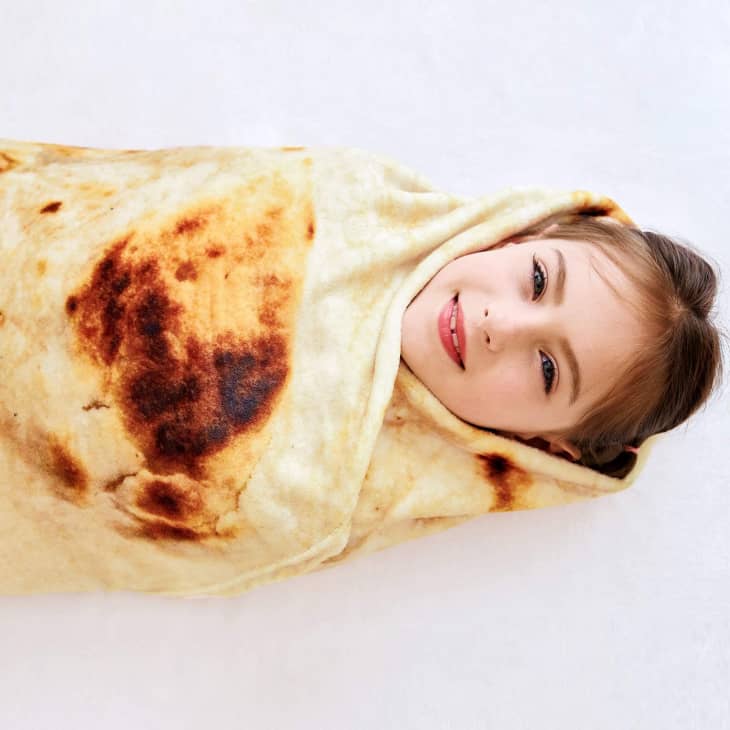 If you've ever wanted to feel like a burrito filled with carne asada goodness (extra guac), we've got delicious news: Amazon has a best-selling burrito blanket that will do just that. The Casofu Burrito Blanket, available between the $31 and $35 price range depending on size and color, went viral last year—but because coziness never goes out of style, the burrito blanket still sits atop Amazon's best-seller list this holiday season. 
The burrito blanket comes in four color options (beige, white, yellow, and canary yellow) and contains the near-perfect likeness of a flour tortilla. Seriously. They are so realistic—down to the crisps and light burns. What's more, the blankets are made of soft and warm lightweight fleece. The reviews are overwhelmingly positive, too. The blanket currently has a 4.8 out of 5 star rating, and all of the reviewers have confirmed the softness of the product. 
One reviewer mentioned that the blanket looks like a real, actual burrito, and cautioned not to eat it. Another noted that it was "purrrrfect for me and my cat to cuddle together." The cat's name? Taco. "And I made him a purrito," the reviewer wrote.  Another reviewer noted that the "so very soft" product helped after they came down with a flu and "was running a fever of 101 degrees to 103 degrees,"  feeling so "cold that I couldn't stop shivering." The reviewer wrote, "I wrapped myself in the blanket, and the softness of the blanket was so comforting." 
If you aren't quite sold on a burrito blanket, the brand also offers a variety of other food items to choose from. A pizza blanket, waffle blanket, and apple pie blanket are some of the other food group products available to shop. Now if you'll excuse me, I'll be purchasing a burrito blanket for everyone I know.