We Found the Perfect Shoe Rack, and It's Under $25
We independently select these products—if you buy from one of our links, we may earn a commission. All prices were accurate at the time of publishing.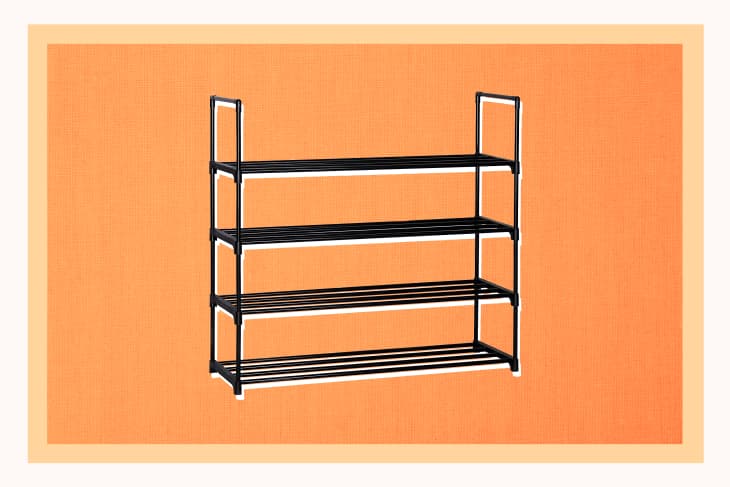 I just moved, and was confronted yet again with the struggle that has consumed my life: where the hell to put all my shoes. There I was, unpacking boxes and transferring clothes to their new home. My new closet is smaller than the IKEA wardrobe that previously housed my outfits, but everything was fitting. It was all coming together! And then, I realized I hadn't yet unpacked my shoes. My totally full yet perfectly organized closet still needed to accept my shoes.
Follow Topics for more like this
Follow for more stories like this
Reader, I broke out into a sweat.
It's a tale as old as time, especially in New York. Need I remind you that Carrie Bradshaw's "solution" to a lack of shoe storage was to put her sweaters in her oven? Sometimes, sacrifices must be made. As for me, I went onto Amazon and looked up shoe racks. I have a small slice of wall between the closet and the door, and decided the only way forward was to put a shoe rack there and not be able to open my door all the way. It's fine!
I needed something inconspicuous, but roomy enough to fit all my shoes. If I'm going to lose some space to a shoe rack, then it better be able to hold everything. That's when I saw this inexpensive, four-tier option. It's just under 36 inches wide, which honestly isn't even that big, yet it's capable of holding up to 20 pair of shoes. It's durable too, with metal tubing that makes it much sturdier than other options out there. Plus, it's easy to put together, and the black and gray color options blend right in.
It's also very highly-reviewed and currently getting a whole lot of attention—it's currently featured on Amazon's Movers & Shakers section, which shows the most viewed products on Amazon in the moment. Right now it has over 780 5-star reviews, which is 71 percent of the total reviews (yes, I definitely checked this).
One reviewer says: "One year of twice daily use and this little plastic rack has held up! I'm kind of surprised because it's so plasticky and feels pretty cheap. However, I've had nothing but great success. You can't beat the price for the organizational benefit it gives." I don't disagree.
And if you're someone who dreads putting things together, fear not. "My 4 yr old actually built it as I handed him each piece," said another reviewer. I recently hired a TaskRabbit to hang up a curtain rod, so this review is very comforting to me.
In short, shoe storage is the bane of my existence, and I'm always excited when I find a good solution. (Yes, I know I should probably downsize my wardrobe and get rid of some shoes, but let me live.) This rack is a great option, especially if you have the floor/wall space to spare, or a big enough closet. Plus, it's under $25, which is rare for a shoe rack that holds so much. Talk about getting bang for your buck, am I right?