This Brilliant $22 Accessory Keeps Folded Clothes Neat and Closet Shelves Organized
We independently select these products—if you buy from one of our links, we may earn a commission. All prices were accurate at the time of publishing.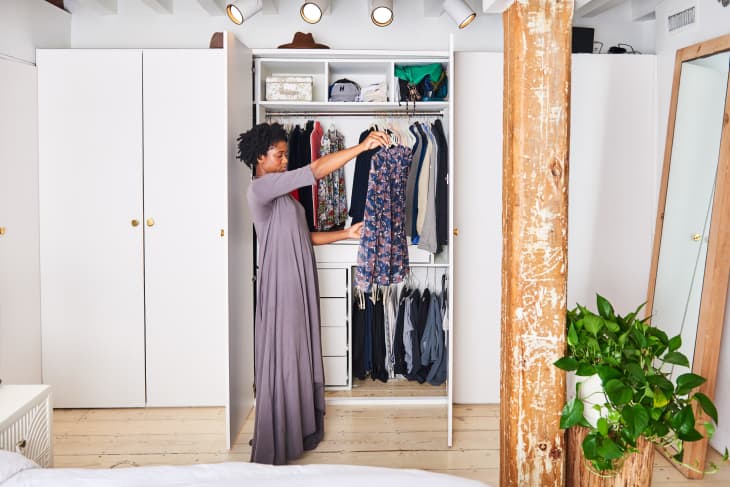 I'm sure that anyone who, like me, has a small closet can relate to the feeling of not wanting to waste limited hanging rod space. To put it simply, hangers are for coats, jackets, sweatshirts, pants, and other heavy articles, so thinner items need to find a different home. That's much easier said than done, though. Sure, T-shirts and leggings are light and flexible, but those seemingly positive attributes also make such garments impossible to keep neat. My own shelves always start out perfectly organized at the beginning of the week. But by Saturday, they're due for a tidying sesh all over again. One tug on the wrong shirt sleeve or removal of a tank from the middle of a stack, and it's game over. Everything falls out of place (sometimes literally).
I'm here to tell you, though, that you no longer have to live like this. There's a handy little accessory on Amazon that'll whip your wardrobe into shape and keep it that way forever. The Univivi clothes drawer organizer promises to prevent unruly messes on all your flat surfaces.
Available in a set of two, these ingenious little pockets have their own built-in dividers, allowing you to fit up to seven (or however many you can squeeze) pieces in one bin. Although they're called drawer organizers, you can store these wherever you want, such as on shelves or under the bed. A front-facing handle lets you pull out the entire bin and grab what you need. Another major plus? This product is so easy to take on the go, so you might even buy some for upcoming holiday travel. "My wife loves these for RV packing and storage," one reviewer shared. "They collapse and expand, and it's amazing how much stuff you can stuff in these." Not only that, but the organizers' transparent gauze material lets you see which clothes are inside, so you don't have to rifle through the whole stack to find one piece.
In case you were wanting to use these clever holders for larger pieces, I have more good news: They also come in an XL size, which can fit jeans, sweaters, and all kinds of other thick garments. Now, they want sprawl out all over the place and make your morning routine needlessly stressful. So grab a set or two for your own wardrobe, and maybe a couple more if you have kids, and delight in the luxury of efficient dressing.