​When it Comes to Costco Vs. Amazon, Who's Cheaper?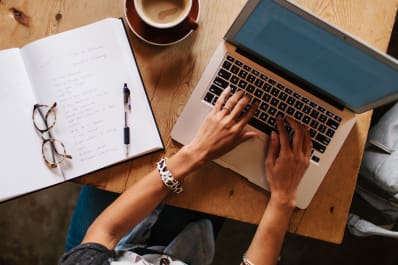 (Image credit: Kristen Curette Hines/Stocksy)
The shopping arena is full of discount contenders, so, while you're likely getting a pretty decent deal no matter what budget-savvy stores you shop, there are still some that will have you coming out on top (with a fatter wallet). Taking a look at two of the biggest—Costco vs. Amazon—you might think you know where you'll save the most money, but...are you wrong?
After a few reports and stories have come out (more on that in just a bit) that swing toward Costco being the frontrunner in savings, we decided to do a little of our own side-by-side comparison shopping.
Some Background Information
A recent report published by LendEDU concluded that Amazon is just over 12% more costly than Costco on identical items. For the study, it price-shopped 38 identical items ranging from sparkling water to an iPad (in-person at Costco, online for Amazon). While a few pieces of tech (headphones, hard drive, LCD TV) proved to be cheaper at Amazon, Costco came out looking like the clear choice for all other shopping.
And while you may think that comparing Costco IRL to the digital platform of Amazon is apples to oranges, MarketWatch also reported this past June that "a BMO Capital Markets study found that prices on Costco Wholesale Corp.'s website are 17% lower than those on Amazon.com Inc."
We understand that there are many factors at play here. The prices fluctuate constantly on Amazon, so depending on what was being shopped for on any given day, that could change things. Also, there is a fee—about $60-$120/year—to shop in-person at Costco (where you'll get the best deal as compared to their website, where thousands of items are available even without a membership).
All of this said, we were eager to dive in and do our own side-by-side comparison shopping across multiple home categories to see if we came up with the same answer.
Comparison Methodologies:
Chose five random items in varying categories (electronics, home goods, grocery, etc.) to see how much they cost on each site (taxes not included).
Pick 10 items to add to our carts at each company to compare the total cost. *Note: While the study by LendEDU was in-person, we're limited to online pricing alone for this story, though we did use a Costco membership login to reveal any special pricing or promotions.
Comparison 1: Single Items
Item 1: Flocked Thin No-slip Hangers
Both sites sell a basic brand of thin no-slip hangers, and while very similar, the ratings on Amazon's item are higher than Costco, Costco offers a larger amount (70 as compared to 50) in their offering.
Cost on Costco.com: $19.99 for 70 (shipping included)
Cost on Amazon: $19.99 for 50 (free Prime 2-day shipping)
Takeaway: If we're talking price per unit, Costco comes out on top here: 29 cents per hanger on Costco, 40 centers per hanger on Amazon.
Item 2: Viva Paper Towels Choose-A-Size 24 Big Rolls
The cost of shipping on Costco is included in the price (with an estimate of 3-5 business days), while Amazon offers a "subscribe and save" option of 5% off with free shipping (available on Prime, as well).
Cost on Costco.com: $34.99 (shipping included)
Cost on Amazon: $28.99 (free Prime 2-day shipping)
Takeaway: Amazon's "subscribe and save" model on certain items more than inches out the price on Costco.com.
Item 3: iRobot Roomba 805 Vacuum Cleaning Robot
This was the only iRobot Roomba vacuum that Costco sold, and finding the exact one an Amazon was tricky. Amazon offered a ton of newer models (for much higher prices, of course), but we were able to find the same model via multiple sellers, one that offered free Prime shipping. It's also important to note that the price tag at Costco also includes shipping.
Cost on Costco.com: $329.99 (shipping included)
Cost on Amazon: $433.25 (free Prime 2-day shipping)
Takeaway: If you're looking for the newest tech, Amazon might be your best bet regardless of price, as Costco seems to offer better discounts, but on older models.
Item 4: Takeya Cold Brew Iced Coffee Maker
Both sites offered the Takeya Cold Brew maker with the additional storage carafe, so you can be making one batch while enjoying another that's already made.
Cost on Costco.com: $19.99 (shipping included)
Cost on Amazon: $29.99 (free Prime 2-day shipping)
Takeaway: You may have better luck at Costco for some home items like this cold brew maker.
Item 5: Samsung Curved 65-Inch 4K Ultra HD Smart QLED TV
If warranties are important to you in pricey home electronics, Costco is the winner both in that offering a well as price in general, offering a 3-year warranty for $89.99 (which actually comes out to be free because you get $90 off the TV when purchasing the warranty). Also available with the purchase at Costco? A $50 Google Play credit.
Cost on Costco.com: $2,279.99 (shipping included)
Cost on Amazon: $2,297.99 (free shipping, but not Prime eligible)
Takeaway: While LendEDU's analysis deduced that electronics are cheaper overall on Amazon, there are still deals to be had on Costco.com, some including better warranty options.
Comparison 2: 10 Items in Each Cart
For this comparison, we chose 10 random items across a variety of categories and put the same items in each basket at Costco.com and Amazon to see what the final totals would be. Note that all of the items are eligible for Amazon Prime (or have free shipping) and are not part of the Prime Pantry program.
Amazon Shopping Cart, 10 items
Costco Shopping Cart, 10 items
Final Tally
As you can see, on this particular selection of goods, Costco came ahead the clear winner in price, beating out Amazon by $162.34. Note that many of the items in the Costco cart had a special promotion (especially some of the big ticket items, which were available online to members only).
Further Thoughts
Membership. A basic household membership for Costco starts at $60, while shopping on Amazon is free and open to everyone. As mentioned previously in this article, there is a wide range of products available on Costco.com without a membership, but where the real savings came in our sample cart was with member-only pricing.
Inventory. Whether we're comparing items individually or looking at the whole cart, Costco offered better prices on every product selected. Something of note is that while the membership warehouse may have some super competitive pricing, the variety of options offered were very limited. Where Amazon might have offered over a dozen different Dyson vacuum models from numerous sellers, Costco only offered seven. This was the case in most categories; lower prices, lower variety of products to buy.
Reviews. Review counts on Costco.com are exponentially lower, though they appear to be of the genuine type. It's often not easy to tell (unless you're using a browser extension to spot fakes) if you should take any stock on the ratings and comments on Amazon.
Bottom Line
While our side-by-side comparison was not done in the same way as LendEDU for their report, we still came up with the same findings. Costco is cheaper than Amazon across the board. Of course there were items we found to be cheaper on Amazon (as you saw in our item-to-item juxtaposition), and, with a Prime membership (which is $99/year) you get free 2-day shipping on any eligible purchases as well as tons of other goodies like Amazon Video), while shipping is typically 3-5 days for Costco (though also mostly free).
If saving is the name of the game for you, Costco is leaps and bounds the winner (coming in at just about 26% cheaper in our finders than Amazon), but if you'd rather know that whatever you are looking for is available to you, and you thrive off of options, that Amazon upcharge might not deter you.
We're very interested in hearing from you! Do you have both Costco and Prime memberships? Did you give one up in favor of the other? Are there any must-buys at either retailer that everyone should know about? Please share your experiences!
Apartment Therapy supports our readers with carefully chosen product recommendations to improve life at home. You support us through our independently chosen links, many of which earn us a commission.