These Slim Rolling Under-Bed Organizers Instantly Eliminated My Avalanche of Seasonal Bedding, and They're on Sale!
We
independently
select these products—if you buy from one of our links, we may earn a commission. All prices were accurate at the time of publishing.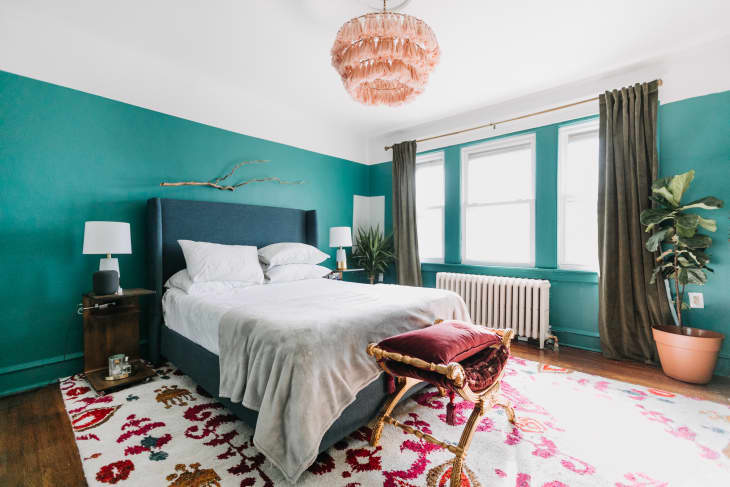 Now that I've lived in my tiny studio for almost two years, I've collected a lot of extra linens. My closets are bursting at the seams, and I haven't been able to find a spot for my extra quilts, sheets, and towels that I've acquired for testing purposes. Recently, I gave up and ended up just shoving my excess blankets in a random corner of my closet, but I knew this wasn't a long-term solution. Since I've maxed out my closet space, I knew I needed to take advantage of another untapped area: under the bed.
Here at Apartment Therapy, we're huge fans of using precious under-bed space for storage. It's the ideal spot for items you don't touch on the regular, like seasonal clothes or extra linens. So, when I got my new Thuma bed that had a lot of room underneath, it was time to get creative. A quick Amazon search led me to these Punemi Under-Bed Rolling Storage and Removable Bags, and my seasonal bedding avalanche immediately disappeared as soon as I got them.
What is the Punemi Under-Bed Rolling Storage?
The two under-bed bins come with 360-degree wheels, so you can easily slide them in and out of the bed area quickly. They took just a few minutes to assemble and didn't require any tools to put together, which is always a win in my book. These bins are roomy and perfect for quilts, sheets, or towels. Or, you can use them for bulkier seasonal clothing like sweaters that would normally take up too much space in a closet or drawer. You can buy just one or purchase a set of two or four, and they come in black or white.
Why I Love the Punemi Under-Bed Rolling Storage
I was able to fit a good amount of items in these two rolling bins, and they immediately made my mess of extra linens disappear. I love that each outer frame of these bins includes a removable, zippered fabric bag that fully closes to keep out dust, mites, or other things you don't want to touch your items inside. I also love that the top is transparent, so you can easily see what's inside quickly (so you don't have to open each one to find the thing you're looking for).
These rolling organizers would also be great for dorms or to store toys, books, or other bulky items that you want to hide out of plain sight. I stuffed these bins to the brim, so I'm already thinking about getting another set — there's plenty of room under my bed for a couple more!