Double Your Laundry Room Storage Space with This Genius Hack
We
independently
select these products—if you buy from one of our links, we may earn a commission. All prices were accurate at the time of publishing.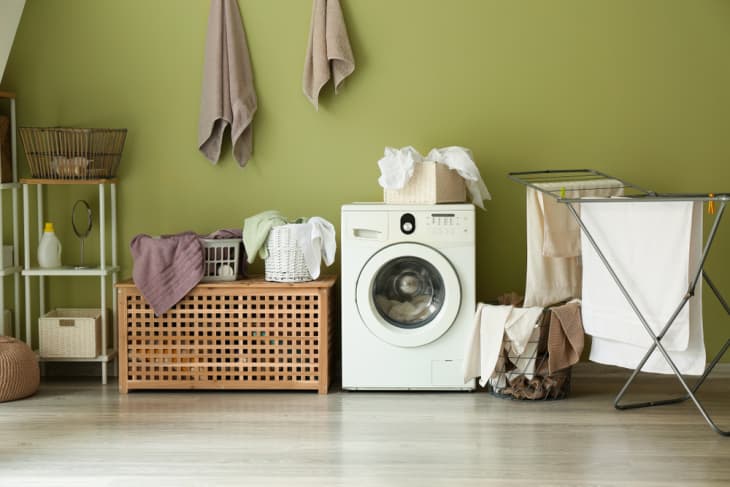 We have a strange confession to make: The laundry room is one of our favorite rooms in the house. Having a washer and dryer is a total luxury, as anyone who hauls their laundry bag over their shoulder and treks to the laundromat can attest. But for some reason, when people do have laundry rooms, they tend to get the short end of the stick. They're often hidden in the back of the house, tucked away in the corner of the unfinished basement, or forced to share space with a kitchen, bathroom, porch, or mudroom. If you're looking for an easy way to spruce up your laundry room, this laundry storage tower will make a huge difference.
Laundry requires a ton of different products. For starters, there's detergent, bleach, fabric softener, and dryer sheets. Then, you have your stain removers, scent boosters, and wrinkle releasers—and that doesn't even scratch the surface of laundry room accessories like hangers, clothespins, dryer balls, lint rollers, and an iron.
What we're saying is there's a LOT to organize in your laundry room, and no matter how well-designed the space is, we'll always say "yes" to more storage. Which is why we're obsessed with this slide-out storage tower that will organize all of your laundry day essentials in one place.
The storage tower is just the thing to put in between your washer and dryer for more storage. Or, if your machines are stacked, you can slide it between them and a cabinet or a wall. It's mounted on caster wheels and effortlessly slides in and out for easy access.
"Fit between washer and dryer perfectly and all the laundry items fit in the bins," one five-star review reads. "Rolls out easily to access items in the lower bins."
The sliding storage tower is great for your laundry room, but it can also work wonders in other rooms of your house, too. Have a slot between your refrigerator and your oven? Slide in a storage tower and make the most of the unused space. Have room between your shower and your bathroom sink? Hide a storage tower and marvel at how much storage you gain. It'll work wonders for decluttering your space.