This Sleek, Slim $18 Laundry Hamper Is a Must-Have for Super Small Spaces
We independently select these products—if you buy from one of our links, we may earn a commission. All prices were accurate at the time of publishing.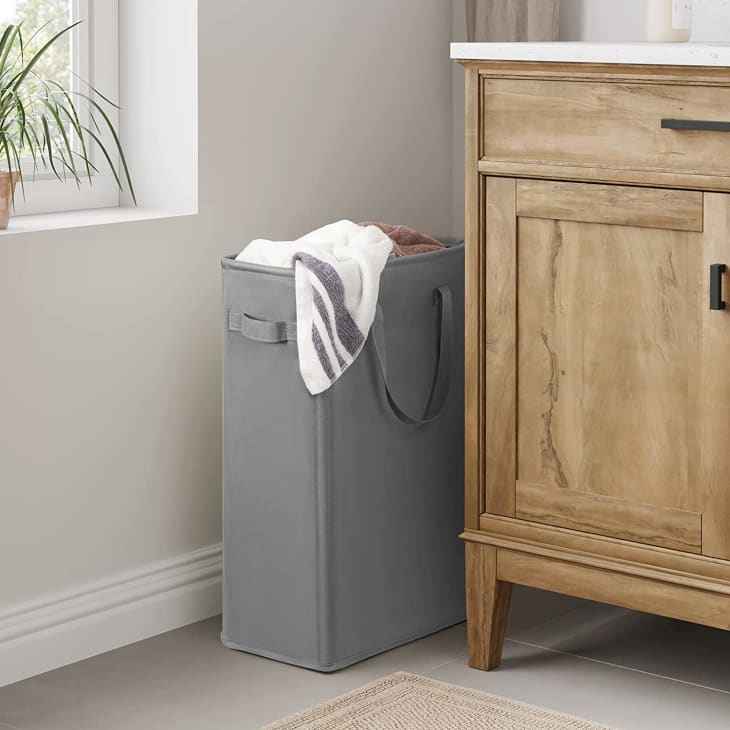 For many, having a washer and dryer in their home would be considered a luxury, on par with having a personal chauffeur or a robotic vacuum cleaner that also responded to emails for you. For some city apartment dwellers, just having the room to fit a full-size laundry hamper in their home would be its own form of luxury. I've been there — I've had to keep my dirty clothes in a bag that can be moved when it gets in the way or stuffed under the bed until the dreaded laundry day arrives.
Follow Topics for more like this
Follow for more stories like this
The problem with most hampers is that they're simply not designed for small spaces. I've never been a big fan of laundry bags or over-the-door systems because, while they certainly work, they're not pretty to look at and they make your laundry look messier than it really is. Fortunately, there are better options now than I had in my 20s, such as this slim stand-up hamper that takes up almost no floor space and costs only $18.
Because this hamper's base measures 8 inches by 15 inches, you can tuck it into places where standard hampers won't fit, such as behind a door, between larger pieces of furniture, and in nooks that are too small to be used for much else. As you would expect, it can't carry as much as a full-size hamper — it has a 45-liter capacity, compared to the standard 72- or 90-liter capacities — but it will still hold close to a week's worth of clothes for one to two people. And when the alternative is an unsightly sack that sits crumpled in a corner of your bedroom, any hamper is going to be much tidier.
Of course, this neat little hamper isn't confined only to small spaces. On Amazon, many shoppers wrote about buying it for a kid's or infant's bedroom or as a towel bin for their bathroom. Others also bought it because they preferred having a lighter and smaller bin to carry around when they bring their clothes to their building's laundry room or out to a laundromat, and they appreciated the durable fabric handles sewn onto the sides. It also becomes a convenient storage bin for clean bedding or towels if you keep it in a linen closet.
"I needed a hamper to fit in a small alcove in my bathroom," One reviewer writes. "I've had this for about six months, and I am very impressed with the fact that it fits a generous amount of clothing for the size that it is. It is held up well, it is super lightweight and overall I'm very happy with this product."
Setting up the hamper takes a few minutes and mostly just requires you to insert a few folding poles into the corners to establish some structure. The exterior, made of a heavy-duty fabric, has a waterproof coating, and the inside is lined with mesh that cinches at the top so clothes won't fall out when you're carrying it. Some reviewers wrote that they would prefer the mesh liner to double as a removable laundry bag, so if you want to transport your laundry without carrying the hamper you might want to add an additional bag inside. For a dollar or two more, you can also opt for a model with wheels on the bottom that make taking your laundry anywhere a little easier.
As with all home goods, what matters is choosing items that fit your space. So whether you want an extra hamper for rooms in your home that have a way of accumulating dirty clothes and towels, or you need something that will hold your laundry without making your apartment look like a college dorm room, this sleek little number has you covered.