The Ingenious $36 Organizer That'll Keep Your Staircase Clutter Free
We
independently
select these products—if you buy from one of our links, we may earn a commission. All prices were accurate at the time of publishing.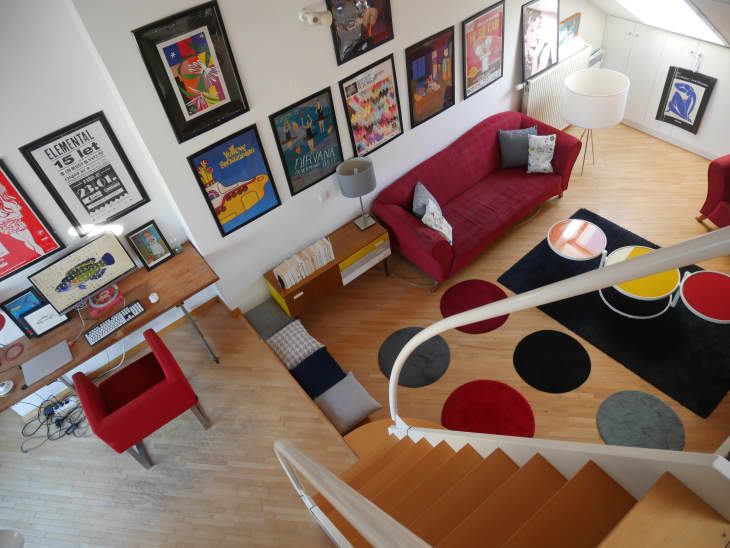 No matter how tidy you try to keep them, the stairs always end up as a makeshift storage spot for laundry, linens, groceries, and other miscellaneous objects. They're just… there, and it's so easy to plop stuff down and forget about it. That is, until you're trying to walk up and find yourself tripping over the obstacles. In cases like these, it's important to be realistic. Are you resolved to never setting things down on the stairs again? Probably not. What you can do, though, is try to control the chaos.
We're basically masters of this at AT — our staff is constantly finding the most specific yet useful organizing tools for every room of the house, whether you need something to keep your utensils in order or a way to save space while stacking your shoes. And the same goes for the staircase. We just so happened to stumble upon this Benjee staircase basket, which corrals all of your random bits and bobs and keeps them off to the side.
You might be thinking, What's so special about a storage basket? As you can see from its photo, the Benjee basket has an L-shaped cutout that allows it to fit right around the edge of one of your steps. As a result, it won't lie awkwardly over the edge and potentially tip over. Store piles of clothing in the basket without fear that they, too, might fall. Then, when you're ready to transport your items up or downstairs, simply grab the basket by its sturdy riveted handles, and you're good to go.
More than 100 five-star Amazon raters agree that this product truly works and saves them from having to make multiple trips down the staircase. "This thing is fantastic," one reviewer raved. "We leave stuff for the kids to take to their rooms on the stairs, and typically, within a week, you cannot find the stairs!!! This holds almost everything and doesn't make my house look like 'Sanford and Son.' It's sturdy, and easy on the eyes!"
The basket is made of a pleasant beige material and has soft brown leather handles that do, indeed, look great and are super easy to carry. And whenever you have guests over or just want your staircase completely free and clear of junk, the basket collapses for easy storage! But we have a feeling you'll want it around all the time. This handy must-have might even become a fixture that's as permanent as the stairs, themselves.