This Under-Sink Organizer Is New on Amazon—and Already Has Over 100 5-Star Reviews
We independently select these products—if you buy from one of our links, we may earn a commission. All prices were accurate at the time of publishing.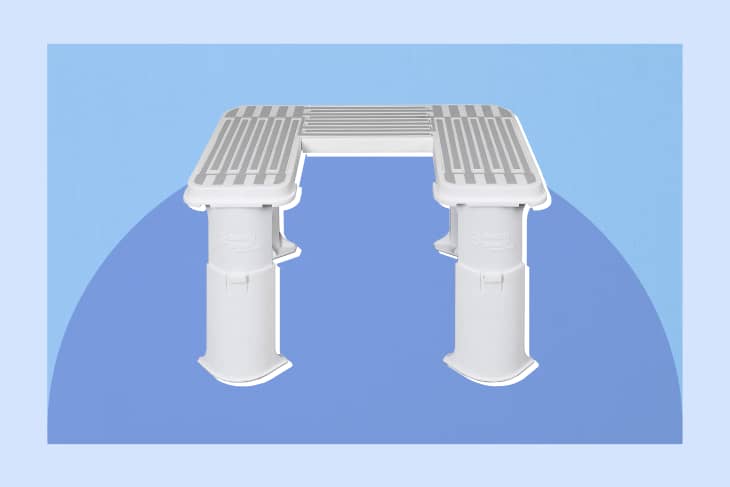 Maybe it's because they're out of sight most of the time, but under-sink organizers don't always get the credit they deserve. But I think we can all agree that they're lifesavers when it comes to corralling all your cleaning supplies and toiletries. And if you don't already have one, allow us to humbly recommend this adjustable option. We found it on Amazon's Hot New Releases section, but it's already getting so many 5-star reviews we had to take a closer look.
Follow Topics for more like this
Follow for more stories like this
The organizer's defining feature is that it's expandable—not just in terms of height, but also width and depth. That allows it to fit around pretty much any plumbing configuration and maximize the storage potential in almost any sized under sink space. (If you've ever bought an organizer only to find that it wouldn't fit with your plumbing situation, you'll understand why this is so great.) After adjusting it to your preferred size, you can rotate it 360 degrees to fit around any plumbing—and even take advantage of the space behind your pipes. 
Reviewers also rave that this organizer is "pretty darn solid!" As one user mentioned, "I really love that the surface is flat and solid. I can't stand the wire ones because it's just a matter of time before everything just tips over—not something I'll never have to worry about with this setup!!" The organizer's solid surface is also coated with a non-slip material, another feature that makes it stand out compared to traditional wire organizers. 
Another frequent problem with under sink organizers is that they tend to bow under the weight of all those bulk-sized bottles over time. Spicy Shelf's version is designed to hold up to 40 pounds of product—that's a lot of dish soap! As another reviewer mentions, "It easily holds the weight of the bottles of cleaner, too. I can now find exactly the product I need with just a glance, and I'm able to get it out without an avalanche of bottles toppling onto the floor."
Many reviewers also appreciated that, despite its adjustability, the unit is easy to assemble and lock into place. "Took me longer to rearrange my cabinet than assemble it. Get this!" yet another 5-star reviewer raves. Everything snaps together and no tools are required for assembly or adjusting. 
Of course, the product's most important feature is the instant gratification it provides after you've tamed one of the wildest spaces in your home. One reviewer writes, "This thing is super handy!! It is so much easier finding what I need under my kitchen sink. I feel so much more organized now and I can get to my cleaning products and everything I need quicker." So, if your under-the-sink space is in need of a little makeover, this handy organizer seems like a pretty good place to start.