Amazon Wants to Curb Package Theft By Delivering Straight to Your Car Trunk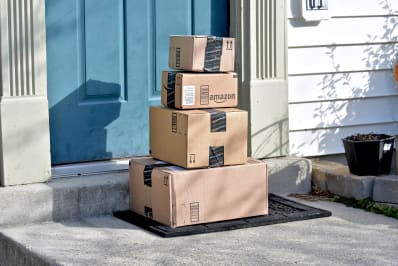 (Image credit: Jeramey Lende/Shutterstock)
If you thought Amazon couldn't get any more omnipresent in our lives, now the retail giant wants the keys to your Beemer. (So it can better guarantee delivery of packages and cut down on the ever-increasing problem of mail theft.)
If your neighborhood on Nextdoor is as active as ours, no doubt nary a day goes by that someone isn't complaining about the increasing number of stolen mail and packages. Because, new statistics show, 11 million packages are stolen from porches and mailboxes per year in the US — that's 31% of shoppers who've experienced package theft at least once — and Amazon just can't with that unacceptable level of loss, both for the company and its customers. (Namely, pretty much everyone at this point.)
Amazon is in advanced talks with Phrame, a smart license plate maker, to test out shipping packages directly to your car's trunk, CNBC reports. The company is also developing a smart doorbell device for safer (and hopefully more guaranteed) delivery to your home with smart doorbell maker August.
Much like the way you would unlock a rental car, smart license plate maker Phrame works by creating a secure box around your license plate that holds the keys to your car and which users can open with their smartphone — and can also grant remote access to others, such as say Amazon delivery drivers.
Amazon already pilot-tested and experimented with in-trunk delivery in 2015 in Germany, through a partnership for Audi owners, and in 2016 Amazon also tested the service with DHL and Daimler in the same region, according to the Financial Times.
Neither Amazon nor their partners would comment on specific plans or a timeframe for rolling out the pilot programs with Phrame (smart license plates for trunk delivery) and August (smart doorbells for home delivery) for testing in the US, but the limited-market testing over the 2017 holiday season seems likely.
As Fortune reports, these "clever solutions" would be great for businesses, too, who are also harmed by package theft — which creates additional costs and can create a poor shopping experience that deters customers from ordering again. Likewise, a system of car trunk drop-offs would also improve efficiency by reducing the number of times a truck driver needs to attempt a delivery before succeeding.
For more on the growing problem of consumer mail and package theft, and the state of the issue in 2017 by the numbers, check out this fascinating "porch piracy" infographic from Schorr Packaging Corp.