This $20 "Wet and Forget" Cleaner Does Wonders on My Shower — And Got Rid of My Mold Problem!
We independently select these products—if you buy from one of our links, we may earn a commission. All prices were accurate at the time of publishing.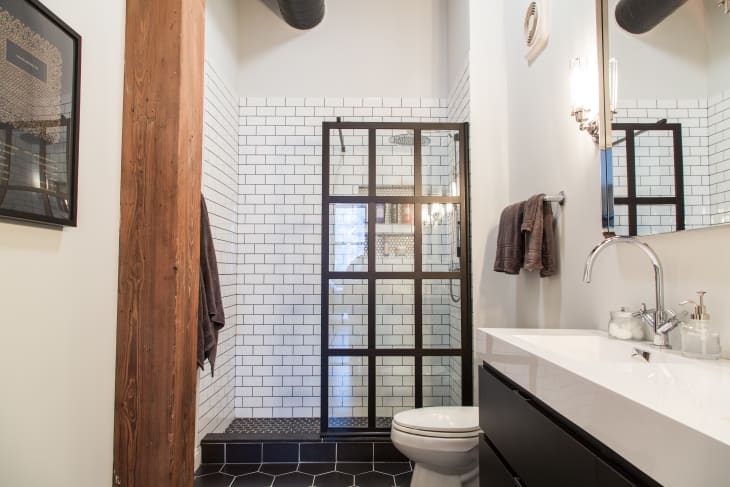 My home has a dirty secret — and it involves the upstairs shower. My husband and I live in a cute Cape Cod in Staten Island, New York. At some point, the prior owners did a bump-out in the rear of the top floor and added a second bathroom. We're thrilled they did it, but not so thrilled that they didn't add a radiator. So aside from it being a bone-chilling experience to step barefoot on that tile floor in the wintertime, drying out the bathroom after a shower is a chore. 
Follow Topics for more like this
Follow for more stories like this
Science was never my strong suit, but even I know that mold is a natural occurrence wherever there's moisture. Shower mold freaks me out because I associate it with the toxic stuff that grows after a flood or other water damage. Thankfully, the mold that likes to grow on tile grout is not the same thing, but it's not good to keep around, either. 
I also know that ventilation is key to combating mold. There's a window in the shower that lets in plenty of sunlight, and we keep it cracked in the summertime, which helps the shower walls and curtain dry much faster. We also have a bathroom exhaust fan, but it's been loud and wonky lately (it's on our to-be-fixed-or-replaced list), so I'm constantly scrubbing the shower.
Shopping for mold-blasting cleaning products has become something of a hobby for me. Again, I don't mind attacking tile grout with a scrub brush and some elbow grease, but I wanted to find a product that would lengthen the time between battles. And I found it: This Wet & Forget Shower Cleaner.
There are a couple of things that I loved right off the bat with this product. First, you get a lot for your money. Cleaning products get used up quickly and can be pricey to replenish, but this 64-ounce jug will last me quite a while. It was priced at $19.54 when I purchased it, which works out to be a little less than 31 cents an ounce — not bad! 
The second thing is that, unlike other mold-blasting products, this product has a pleasant vanilla scent. No, I'm not planning to swap out any of my French vanilla candles for Wet & Forget Shower Cleaner — and yes, I did ventilate the bathroom when using it! — but I appreciated that it lacks the chemical smell I've resigned myself to when cleaning the bathroom.
Using this cleaner couldn't be easier, although it's a bit different than most spray bottles. The jug is so big that the spray trigger attaches to it by a thin tube — you hold the jug by the handle with one hand and spray with the other. I've been having a lot of issues with other cleaning spray bottles clogging lately, but this works like a dream every time I use it.
Although it's a "wet and forget" (you spray and leave it to work) and meant to be used weekly, it's important to note that you first have to achieve a clean shower before getting to the "forget" stage. I like a product that manages your expectations, as it says very clearly on the bottle that it might take several daily applications and a wipe-down for it to start working its magic. Still, I'm stubborn and wanted to see what it would do on the first try.
I did a spot test, then proceeded to spray down the entire shower. I was concerned about the eight- to 12-hour (and up to 24 hours) leave time, so I decided to rinse it off sooner than instructed. Even with the shortened time frame, I still saw noticeable improvement and cleaner tiles — and no discoloration. Then, I switched the shower head to a stronger blast on the tiles and grout and was thrilled to see the mold that had accumulated along the bottom edge of the shower slide off and went down the drain. Buh-bye! 
I aimed the water spray at the most offending corner of my shower and was only slightly disappointed to see that it didn't disappear. I figured I'd need to get a corner scrub brush to attack it, but I grabbed an old rag and tried my luck. In one swipe, the mold was gone. Whoa! I wiped down the rest of the shower and in just a few minutes, I had a clean shower and had officially graduated to the "forget it" stage of the product.
After the initial shower cleanup, I sprayed the shower walls down once a week, then rinsed them carefully the next day. Do not forget to rinse the shower down before bathing. (There's a clear reminder on the bottle.) Whenever I've rinsed the walls after an application, it looks like there's a slippery stream of soap going down the drain, so do be careful.
It's been a couple of weeks now, and so far, mold has been kept at bay. I was thrilled especially to see that the lines of grout above each of the built-in shelves in the corner have stayed white. The best part? Aside from a consistently clean shower, there's still a good deal of product left in the bottle. I've been liberal with my spraying, but the jug still feels hefty in my hand. 
I no longer fear my shower in the wintertime. And while I expect even better results in the spring and summer when the warmer air coming in the window will dry down the shower faster, I'll keep Wet & Forget Shower Cleaner on hand for weekly touch-ups.