Amy & Meghan's Charming Nest in Williamsburg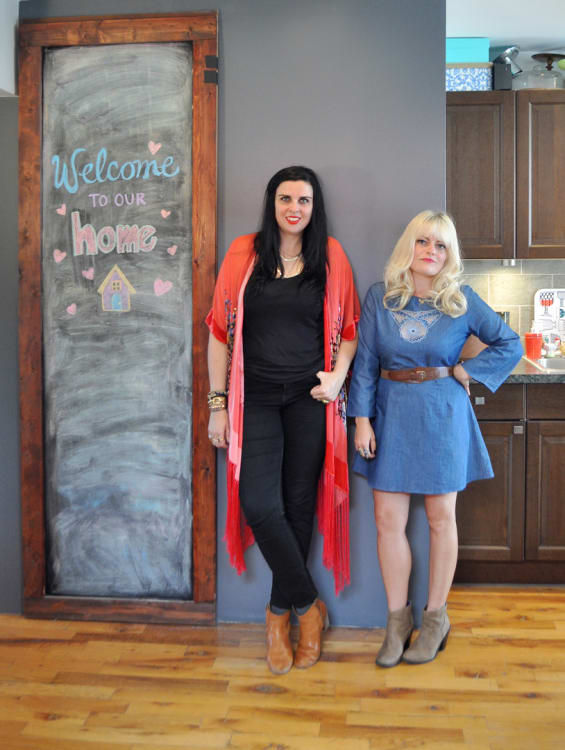 Name: Amy Taylor & Meghan McNeer
Location: Williamsburg, Brooklyn, New York
Size: 2 Bedroom
Years lived in: 2+ years; rented
Amy and Meghan have great taste; not only are these longtime friends adorable, stylish, and down-to-earth, but their home is welcoming and decorated with a sharp creative eye. It's not surprising, since both women freelance in artistic fields. Amy is a prop stylist and sews tiny hats on the side; Meghan works in photography and makes collage art. They use this same creativity when it comes to dealing with the lack of closets in an 8' x 7' bedroom.
The two met down south, in Atlanta, and migrated north together. Both are big fans of nesting, which is apparent the moment you set foot in their cozy space. A chalkboard sign reads "welcome to our home" and warmly greets you at the top of the stairs, while the arrangement of furniture and tchotchkes feel well-balanced and purposeful. Even in a small place they've managed to include a large wood dining table, which fits well in the kitchen and has seen many dinner parties and craft nights. Not everyone can pull off having a lot of stuff in a small space with breathing room to spare, but these two roommates have managed it all so perfectly.
In addition to their websites, you can find Amy and Meghan's inspiring snapshots on Instagram. Meghan also has some photos of the apartment on her blog, Eggs+Ears. A special shout-out to Meghan on her birthday tomorrow. Happy Birthday and thanks so much for sharing your home, ladies!
Apartment Therapy Survey:
Our Style: A balanced mixture of vintage and modern elements interacting in a sophisticated yet playful way.
Inspiration: (Amy) As a prop stylist and interior design enthusiast, I'd have to say I'm hugely indebted to Irving Penn — which can certainly be seen in my various vignettes around our home. I like playing with scale, color and texture when it comes to displaying collections of tchotchkes and the like. Also, more recently, I'm feeling really inspired by the desert-minimal vibe of contemporary Cali decor. Mostly I just like what I like. And even that is ever-evolving. I've always been a more-is-more person — which is pretty funny, considering I have fewer possessions now than I ever have had in my life, a symptom of New York living. I've had to force myself to whittle down in recent years, and the newfound sparseness of my surroundings is pretty freeing. I find myself drawn to minimalism in a big way these days, which is a huge step for this recovering pack-rat. I also am inspired by those who I work with. Jerry Schwartz and Darcie Adler, two of my greatest mentors, have helped shape my design aesthetic and encouraged my success.
(Meghan) This is hard for me to nail down. So many things in life are inspiring to me - in design, color and traveling. I am so inspired and uplifted by being in our home, and I think it is mostly due to the way all of our pieces come together to create this incredible spectrum of every color under the sun. An orange and magenta rug. A moss green chair. A blue throw. A yellow drawing of a man by my friend Darcie's son. I love playing with color (or lack thereof) in my photography, whether it's making everything monochromatic, or one bright pop of red. I am lucky enough to have done a far amount of traveling and love seeing how other countries and cultures approach things like dining, decorating and use of colors. Or even just the stones of a cobble street or the terra-cotta colored buildings with bougainvillea growing down the side inspire me. Beyond design, I am surrounded by so many impassioned people, it's contagious. My family has always supported me in the choice to take a more artistic path and move to New York (I am originally from Oklahoma), so that has always given me freedom to make decisions based on what I love! And then I live with an incredible prop stylist, get to work with some of the finest people in the photography industry, and have friends with creativity overflowing from them. Late night conversations have left me inspired and bursting with ideas for days. I feel so very fortunate to have such a stimulating and wonderful network of people around me.
Favorite Element: (Amy) My uncle's painting of my family at the lake on our red entryway wall. It features two of my uncles — including the painter himself in the foreground — my aunt bending over, and my mom as a child. You can still see the smudge mark across my mom's face where she touched the wet paint; my uncle never bothered to fix it. A close second is the white horse head bust on the living room wall. It was a major score from the Brooklyn Flea.
(Meghan) I shouldn't play favorites so I will name two. The painting in my room by Michael Eudy. A regular Renaissance man — he is half of one of my favorite couples (he and his wife Dana run Field Apothecary) and he is crazy talented. I wake up in the morning to a wall of color and flowers and it helps me start the day on the right foot. Secondly, my photo collection. I have photos from other photographer friends, some I have purchased and of course taken myself (or in photo booths). My favorite photo is a black and white shot of my gorgeous mother playing guitar on my grandparents' back porch. I could spend all day looking at pictures.
Biggest Challenge: Space, hands down — particularly in our tiny bedrooms. Navigating the almost nonexistent closet space has forced us to get creative with our storage solutions, as well as encouraged us to carefully edit our decor selections. In some ways, it's a fun a challenge to try to maximize the room in our small space, though at times it can be frustrating — a reality I'm sure all New Yorkers can relate to.
What Friends Say: Not to sound smug, but the general consensus amongst our friends is that it is one of the nicest apartments they've ever been to in New York. We really try to make our home a reflection of our decor tastes, but ultimately warm and inviting. I think the greatest, funniest compliment we've ever gotten is that being here is like being at home — at your parents' home. And we just adore having guests!
Biggest Embarrassment: (Amy) The 80s bachelor-pad-chic overhead light fixture in my bedroom. I attempted to cover it with a homemade lampshade, which does little to disguise its true chrome-and-glass masculinity. It screams for 80s multicolored spray-spackled walls and a black leather sofa.
(Meghan) The bike (plus black bike marks and holes in the wall from failed attempts at hanging hooks) in our "foyer." With little space and no real place to put it outside, I had hooks made to tried and get it as out of the way as possible. I was mildly successful.
Proudest DIY: (Amy) The framed floral installation in my room. It features a pair of resin antlers and a plethora of silk flora and fauna, and is easily the focal point of my tiny bedroom space. I talked about crafting this for a long time before I actually did, so it's a big accomplishment that I managed to put action behind it. I can be kind of lazy!
(Meghan) I constructed frames for a photo series several years ago. I purchased the wood and stained it, measured it and sealed it together! I am crazy proud of them despite their seemingly simple look. Oh and hiring someone to DIY the shelving system in the living room. There was this empty niche just begging for shelves and I "designed" them to have a triangle in the back for cords. They are a game changer.
Biggest Indulgence: (Amy) I think I'm a pretty resourceful decorator. In my line of work, I've learned the art of repurposing items and revamping existing pieces. My favorite pieces are those that were passed down, or I got for next to nothing. I definitely spend more on my wardrobe than on items for the home. And most of my clothes are from the thrift store or Target, so I guess that's pretty telling...of how cheap I am? Haha.
(Megan) Last year for my birthday I took a trip to Istanbul and couldn't miss checking out the rugs in the market. I dragged my traveling companion around (for what I'm sure felt like an eternity to him) for close to three hours looking at rugs. There was only one that I saw, instantly loved and remembered in the sea of visual stimulations that is a Turkish market — it was three times what I had budgeted to spend but I really adored it. I went back at the end of the day and purchased it. To be fair, it came with a free fortune telling from my coffee grinds, so I feel like I came out on top.
Best Advice: Don't take yourself or your space too seriously — have fun with decorating! It's not a museum, it's where you lay your head and hang with your friends. A home should be beautiful, but also comfortable and functional. It should also be a reflection of you, not of trends.
Dream Sources: (Amy) Dwell Studio, Palm Springs estate sales, spoils from small town thrift and antique store adventures.
(Meghan) One of everything from ABC carpet & home, Dwell Studio, flea markets, estate sales, thrift stores and antique store adventures...it's becoming more clear to me why Amy and I are such a perfect decorating duo and perfect roommates.
Resources of Note:
PAINT & COLORS
Amy's bedroom -> Benjamin Moore, Steam
Meghan's bedroom -> Can't recall any colors!
ENTRY
Our entry wall is full of art from our travels, friends, thrift stores and our own hands.
There are three armoires from Ikea — we jokingly call them Narnia because they seemingly go on forever as it is the major place to stash things in our home.
The "fridge" is a metallic board from Container Store
Maple bike hooks — a custom creation
LIVING ROOM
Jonathan Adler couch was a house warming gift from a production designer friend (the incredible Maria Santana)
Pillows are a mish-mash from Turkey, Kate Spade, Dwell Studio and family homes. A
(Amy) The apple embroidery pillow was made by my grandmother.
Book collection is years in the making and yes, is placed in a way that is more form than function.
The rug is the aforementioned mm Istanbul favorite
Lamp is from a thrift store in Atlanta
Rotary phone is from eBay
Custom shelves
Sonos is from a little place we like to call amazon.com and is the best thing ever!
Record player was my mother's — record collection is years in the making as well
Bureau is vintage Pier 1 (Meghan: my lovely sister outfitted my first apartment in college, it is one of the first pieces of furniture I owned! Well technically was given, details details).
Mirror: an Amy Taylor thrift store score
(Amy) Greek-chic ceramic fruit lamp, a hand-me-down from my great Aunt Florence.
(Meghan) Large print on the wall is a gift from an artist friend of mine Melinda Paquin, it is a map of how the Mississippi has changed over the years and it has been on a wall in every home since 2004.
Philippe Starck Ghost Chair
Lamp on the bureau is from a vintage store specializing in mid century
Modern furniture in Atlanta called City Issue
Flowers are from Sprout
Bar tray is from Target, liquor vessels are a mishmash of flea market & thrift store scores
DINING ROOM
S chairs
Table and chairs, another vintage Pier 1 piece
Black and white photos: Twins, Butterfly girl & masked girl by the amazing Liz Von Hoene, the large tree: Andrea Fremiotti, mm portrait: Alex Martinez, black and white desert abyss: Rene Cervantes
Fresh flowers are a weekly splurge
KITCHEN
Cuisinart mixer in robins egg
Calphalon pans
Le Creuset panini maker & tea kettle
(Meghan) my favorite yellow espresso maker from Sant'Eustachio in Rome
(Meghan) I also have a serious addiction to buying bowls especially from my travels — I brought back 5 from Capetown, you never know what kind of spread you can have and the egg on my face if I ran out of things to several dip in! I think I probably have in the 25 - 30 range of small serving bowls.
AMY'S BEDROOM
Bronze lamp — Target
Green striped bedspread & watercolor shams— Urban Outfitters
Wooden bedside table — Junk in Brooklyn
Boy with american flag belt painting — gift from friend
MEGHAN'S BEDROOM
Bed - an Ikea wooden drawer number with a head board from another set - I love a mix and match!
Side table - West Elm
Edison lights - custom creation
Painting - Michael Eudy
Yellow stool - vintage stool given to me by Liz Von Hoene, polaroid installation - a collection of them i have taken on my travels or
with my family
BATHROOM
Beaded basket from Capetown
Etchings - mm: my sister's friend procured them from a trip to India in
the early 70s
Bodega yellow candles
Thanks, Amy & Meghan!
(Images: Andrea Sparacio)
• HOUSE TOUR ARCHIVE: Check out past house tours here.
• Interested in sharing your home with Apartment Therapy? Contact the editors through our House Tour Submission Form.
• Are you a designer/architect/decorator interested in sharing a residential project with Apartment Therapy readers? Contact the editors through our Professional Submission Form.
Apartment Therapy supports our readers with carefully chosen product recommendations to improve life at home. You support us through our independently chosen links, many of which earn us a commission.