Amy Sedaris is Back with a Wacky New Home Ec Show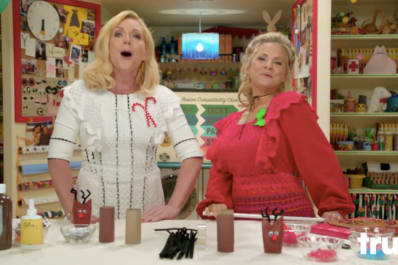 (Image credit: truTV)
Hang onto your hatbaskets, hosts with the most: nearly a decade to the day after the launch of her best-selling, irreverent, and hilarious book on DIY entertaining, Amy Sedaris is back with a new homemaking how-to show, At Home with Amy Sedaris.
HelloGiggles shared the first trailer, and we haven't been this girl-drink-drunk on Sedaris since her recurring character on Unbreakable Kimmy Schmidt. The new show is just like everyone's favorite brightly-colored, relentlessly upbeat heroine, only this time it's Sedaris starring front and center as a quirky mnemonic singing device for illustrated Pinterest charts (but still dueting with Jane Krakowski by her side).
Premiering October 24th on truTV, the 10-episode comedy series (a collaboration between Sedaris and longtime co-conspirator Paul Dinello) is the return of 90s kitsch and wacky wabi-sabi we didn't know we were missing so dearly. The home and gardening show is like the live embodiment of Instagram influencers sharing #reallife instead of the perfectly curated and styled and unattainable in the everyday, with each episode (and its definitively approachable host) guiding us through a universally frustrating cooking/crafting/housekeeping issue.
TruTV described the series as Sedaris using her "imaginative characters and unique point of view to create a rich world that showcases her diverse — but necessary — homemaking skills, from Frenching beans, to gutting a trout, to crocheting miniature sweaters, to entertaining businessmen." (Less obtuse yet equally hilarious topics include the challenges of cooking for one.)
The set, composed entirely of Sedaris's own household items, is like a dreamy mashup of Martha Stewart and Peewee's Playhouse — complete with a hutch for her pet rabbit, though (sad face) her bunny buddy won't be making an appearance — at least not this season. ("We did not have rabbit money in the budget," Sedaris told Deadline.)
Sedaris is like the home-ec equivalent of Bill Nye the Science Guy, and this fangirl at least will be tuning in to TruTV on October 24th for her singular blend of self-reliant specialties.
Confirmed guest stars include Stephen Colbert (who also plays himself, like Krakowski) plus Rachel Dratch, Chris Elliott, Paul Giamatti, who play characters who are experts in some field. Sedaris also plays characters on the show, including "a hobo," an "international wine lady," and Patty, who is "every southern woman crammed into one lady." Merlot-ver everyone, there's a new DIY doyenne in town. (PS, Amy, we love you.)
Find out more about At Home with Amy Sedaris at truTV.com.