An Interview With Annie Selke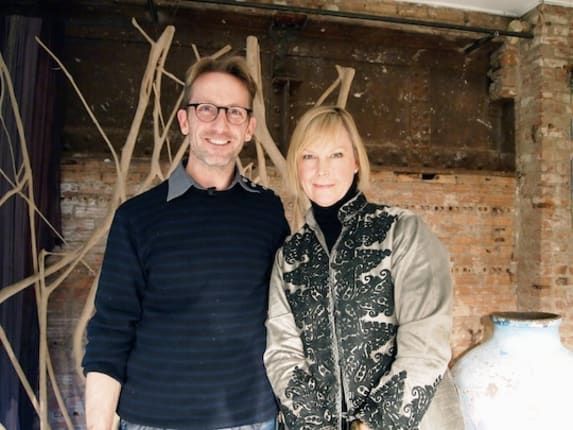 We were thrilled to welcome featured guest, Annie Selke, for our March Design Evening. Celebrated for her commitment to fabulous and functional home décor, Annie Selke is the founder and creative force behind widely acclaimed home-textile companies Pine Cone Hill and Dash & Albert Rug Company. See the full evening's transcript and video below, and click here for upcoming Design Evening details...
TRANSCRIPT
Maxwell:
Welcome to our 65th Design Evening with Annie Selke! Thanks again to our host ABC Carpet & Home and Marius Wines for donating the wine tonight. We will be moving our next design evening in April 2013 to a new venue featuring Nate Berkus. More info to come.
The latest news from Apartment Therapy: We are having our first ever bedroom contest,
My Bedroom Retreat
. We had a total of 103 entries. Vote for your favorite to make it to the finals by April 1
st
. Voting for our Grand prize of $2500 will close on April 2nd.
We also started the Apartment Therapy Video Series. Here is our 1 minute tip: Run Your Apartment Like a Ship with Judy Ross. It is the most popular this month (March) by getting 17,000 views. Judy is a NY textile designer and makes beautiful pillows and rugs.
MAIN PRESENTATION:
Apartment Therapy Design Evening with Annie Selke from maxwell ryan on Vimeo
Maxwell:

Welcome Annie! Celebrated for her commitment to fabulous and functional home décor, Annie Selke is the founder and creative force behind widely acclaimed home-textile companies Pine Cone Hill and Dash & Albert Rug Company as well as licensed fabrics collection Annie Selke Home.
A consummate world traveler and flea-market treasure hunter, Annie gathers inspiration wherever she goes. Her experience includes studies at the Fashion Institute of Technology and positions at Lord & Taylor, Saks Fifth Avenue, Ferragamo, Conran and the Museum of American Folk Art.
In addition to having her Berkshire home renovations featured in a yearlong makeover series in House Beautiful, Annie also launched a decorating series with Woman's Day in 2011, in which she transformed the rooms of five deserving readers. Her first book, Fresh American Spaces, which encourages individual self-expression through decorating, was released in 2011 by Clarkson Potter, in conjunction with the launch of Fresh American, her informative and irreverent design and lifestyle blog.
Annie designs her products from the company's headquarters in the Berkshire Hills of Western Massachusetts.
Maxwell:
I'm curious how did you build such a ginormous company and be so quiet? I got to meet you for the first time tonight and we have talked on the phone. How did you get started, start designing and making money?
Annie:
I grew up in the Berkshires and then started working in NYC in fashion. I went to the University of Vermont for fashion merchandising. I came back to NYC and I went to the job board at FIT to look for a job. They have a great job board. My first job was at Ferragamo as Assistant Sales Manager of Handbags Wholesale. I've always had great bosses! I was told to go to the Saks Fifth Avenue Training Program and do their merchandising program. I wanted to be in their fashion office but like 3 people in the whole world have that opportunity. I realized there was a young man in the training program who was paid $3000 more than me a year and he was not good. I was mad he made more. I was kicking ass and he was not doing anything. I looked for another job because I found out you needed to be there for 15 years before you could even work for the fashion office, so I moved on.
But Saks was good. They really keep track of their customers and know who their best customers are. The best one they had, she died. She lived in New Jersey. This was a major corporate blow for them. They are very sophisticated. I did a lingerie stint there in merchandising, You had to be on the floor for 3-4 weeks. I had to learn to get people into bras. I met lots of people. There was a man who was our best customer. He was a 34B. He came in a suit Monday through Friday and on weekends wore his bra. You could see his bra hanging out of his suit! I also had a pimp as customer and we outfitted all of his girls.
My next job was at Conran's. Terrance Conran was much better than Pottery Barn back then. The aura of the store was so great. I was a publicity assistant. I learned about press releases. I was then promoted to copywriter for catalogues, etc.
Then I had a job as Manager of Product Development. I did licensing for the Museum of American Folk Art. I did licensed programs for lamps, rugs, sheets, food, flatware, etc. We were the designers for the property of the collections from the museum. (We) were the editors for all different things. For example, for this coffee table: you could look at something and think "wow that is an incredible shaped leg" and use that for base of the coffee table. Ideas would be sparked but also I had to be mindful of who my targeted audience was and know who I wanted to sell to.
Maxwell:
You start with a product in the museum? An already designed museum product?
Annie:
Yes, you bring it into contemporary time and make it happen now. Like the wood from that object could be good for that piece.
Maxwell:
You would adapt things?
Annie:
Yes adapt to what works now. What food could sell in Japan? Key lime pie and chicken broth. We would fly it over there. Could this be produced in this country and be sent to Japan and taste good?
Maxwell:
How did you get to do your own thing?
Annie:
After 5 years I got engaged and moved to the Berkshires to plan the wedding. I was married for 22 years. I moved to the West coast. I worked on a motion picture design for a ride at Universal Studios. I had a company in San Francisco but the earthquake of 1989 hit and I moved back to the Berkshires. Then I worked at Country Curtains in the Berkshires for a couple of years. I then got pregnant. I had an affinity for merchandising and realized I needed to do my own thing.
Maxwell:
What does merchandising mean?
Annie:
You throw a whole bunch of stuff on the floor and see what works together, that is what merchandising is. I learned (for example) 3 tops to every pair of jeans not 35 tops to a pair of jeans. You need a business structure. Make the collection as a whole. Layer the collection. Every item gets its own SKU.
Maxwell:
And Country Curtains?
Annie:
When I was at Country Curtains I planned to do my own thing. I made business cards with the name Pine Cone Hill on them. It could have been anything: Pine Cone Hill daycare, Real Estate, etc. Anyway, I started it and told Country Curtains and they said "We would like to buy from you."
Maxwell:
Buy what?
Annie:
They wanted chair pads. They were paying $7.85 a pad and I offered $7.75 a chair pad. I had no idea how to make chair pads but I just said I could do it.
Maxwell:
With different patterns on them? Why buy from you?
Annie:
Yes...I had a lower price. People in my career enabled my ideas. My ideas migrate through their brand. I offered to push the limits of where they were to make them more relevant to more people. I love fabric. (For example) this one is more appropriate...is a little more sophisticated. I did a lot of tweaking. I did stuff for L.L. Bean and Eddie Bauer.
Maxwell:
So the company comes to you?
Annie:
Yes. Country Curtains was important. We then got more customers. We have 3,500 customers now. After Country Curtains we got Garnet Hill. I got pine cones and sprayed them gold in my garage and said "Please come to my booth" at the textile show. They asked what else "do you have under your bed?" I do product development and (had) made bedskirts and they liked them. I continued to do bed skirts from tea towel (fabric) and I sold a lot! It sold like crazy and we made them in more colors.
Then I wanted to do sheets but they are wide width goods and a bigger product. Garnet Hill said they had a vendor in Israel. It did lots of business! They then decided to do quilts. Garnet Hill thought "she is so enthusiastic let her do it." So I sourced and made the designs.
Maxwell:
The vendor in Israel, they said to go through them?
Annie:
Yes the vendor in Israel said "you buy sheep?"
"No sheets!" I said.
Maxwell:
So you spoke to the vendor and then designed?
Annie:
Yes I had a vintage pillow sham, I thought they would make the best sheets. Garnet Hill paid in advance so I could go to this sheet vendor, design and place the order.
Maxwell:
Like in book writing, you get paid in advance?
Annie:
Yes, and they did. I began sourcing as opposed to manufacturing myself.
Maxwell:
Fast forward. How do your designs become products in stores and products for your own store?
Annie:
Eddie Bauer loved the stuff that I did. I have different clients that I do private label for. The name Pine Cone Hill did not go on it. I had a factory of 1,500 sq. ft, then 5,000 sq. ft, now 200,000 sq. ft. I have moved 7 times. When I started I had 5-6 people. Things have changed. Stores now do their own private label. They had pressure to source directly.
Maxwell:
They make their own product?
Annie:
They all do now. We saw the writing on the walls with all this and started our own brands.
Maxwell:
Country Curtains improved your economics when they bought from you?
Annie:
Yes. Now they pay a designer and source and make it themselves.
Maxwell:
So it lowered the cost for them to do it themselves. Then you went to the Home Textile and Gift show under the Pine Cone Hill label?
Annie:
Yes. Before, there was little risk because they took on inventory. There is a risk for me to do it all on my own now because I have minimums and have to sell all on my own, use my own money, sell and ship it out.
Maxwell:
You got good at it?
Annie:
Yes we have made it!
Maxwell:
So you have orders before made or they look at samples?
Annie:
Customers like it, they see it, we get it and we ship it.
Maxwell:
Now you have all 3 different brands.
Annie:
Yes Pine Cone Hill has bedding, sleep wear, accessories and table top.
Maxwell:
What is it like? Pine Cone Hill?
Annie:
It's its own thing in 8 design worlds. Excellent and great taste!
Maxwell:
It's very American, Pine Cone Hill. Approachable style and designed better. (Like) comfort food on a higher level.
Annie:
Yes, our elements are at a higher level. My booth for a long time had wainscoting. Now for the past 5-6 years the booth now has lucite and stainless steel so the booth goes away. It is clean and sleek and let's the product speak for itself. The focus is on the product.
Maxwell:
Your Dash and Albert brand was launched with rugs. Why not under Pine Cone Hill?
Annie:
I tried at first under Pine Cone Hill, but I had a lot of product. Buyers can only take in so much. Rugs have their own thing. So this way I don't have to merchandise it back to all other products in the Pine Cone Hill brand.
Maxwell:
And your third brand?
Annie:
Annie Selke Home and Fresh American is my third brand. Our newest (endeavor) is indoor/outdoor, practical. I licensed both sides of the aisle.
Maxwell:
You really are an idea factory.
Maxwell:
Time for Questions
1st Question:
You do beautiful sheets and rugs, do you do curtains?
Annie:
Yes we do. We have at Pine Cone Hill 164,000 SKUs. We have 8,000 choice of products (including curtains).
2nd Question:
What happened to the Pine Cone Hill retail store in Lenox?
Annie:
We moved it, as it is not our main business. The outlet store is now at the warehouse.
3rd Question:
If I want to start as a Product Developer as a job, do I start with Etsy?
Annie:
Etsy is a good model and a great place to start. You make the product and ship (it) yourself. You can't source it.
4th Question:
Your company has a beautiful mission statement and set of values posted on your website. I would love to hear you talk about your previous experience of working for other companies and how that contributed to/affected the development of the mission, values, goals . (For example) what frustrated you in your career, in other organizations etc.?
Annie:
They were frustrated that I was so enthusiastic. People were threatened by me. I saw opportunities that others didn't. I started my mission as "kinder gentle workplace where other people's ideas are of value"
5th question:
Can you speak of strategies for growing a lifestyle company? How do trade shows and collaborations fit into growing a profitable design company?
Annie:
Trade shows are good but expensive. I (was able to work with) Garnet Hill....but I got a rash. It was so nerve wracking to make a (sales) call and ask if they would work with me. You pick who you want to sell to and approach them...Know exactly who you are and if you do get them, they will be all over you!
6th Question:
For someone changing careers from a buying to a merchandising role into textile design for home, would you say the best way is to go back to school or to intern/work in that industry instead while taking small courses and practicing all the technical program skills?
Annie:
Ask yourself, do you "have an eye?"
Maxwell:
How do you know?
Annie:
I say not to go to school. To be a textile designer know what you want to design. Who do you want to be and can you translate that into product? If yes, you will be successful. It is a lot of hard work. Go around ask people "here is my idea what do you think?
I had Saks Fifth Avenue training, no design. I learned the business. Develop an eye. I went to antique shows with my mom. I love fabrics and just knew it. All the steps along the way make sense. Look at your life and path and where it pushes you.
• Special thanks to Jennifer Ellen Frank of Anasa Interiors for transcribing our Design Evening!
Thanks to our wine sponsor,
Marius Blanc by Michel Chapoutier
Michel Chapoutier is one of the most highly regarded winemakers in France. The story behind Michel Chapoutier's latest innovation, Marius, was inspired by Michel's great grandfather — a man with an insatiable thirst for life and the gentleman who graces the label on Marius wines. Marius Blanc is fresh and elegantly casual. A blend of two of the most common white grapes of the Languedoc, the Terret and the Vermentino, the Terret offers lively acidity while the Vermentino's citrusy and floral scents lead to a delightful sipping wine that pairs wonderfully with food. Visit uncorked.com to purchase a bottle of Marius."
Apartment Therapy supports our readers with carefully chosen product recommendations to improve life at home. You support us through our independently chosen links, many of which earn us a commission.