An Interview with Designing with Farmers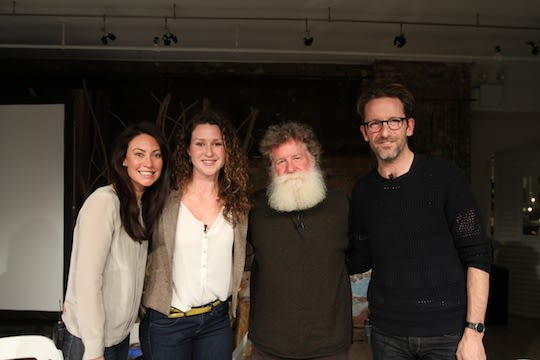 We were thrilled to screen the award-winning film, Growing Farmers, at our February Design Evening. We also welcomed three Long Island farmers, who spoke about their experiences saving land and growing food in an increasingly pre-packaged and genetically-modified world. See the full evening's transcript and video below, and click here for upcoming Design Evening details...
What: Apartment Therapy Design Evenings
Who: Designing with Farmers: Saving Land & Growing Food in the Modern World
When: February 20, 2013
Where: ABC Carpet & Home I 888 Broadway, NYC
TRANSCRIPT:
We're back and very excited about a brand new topic for our first Design Evening of 2013! This month our theme will be Designing with Farmers: Saving Land and Growing Food in the Modern World.
To start the evening I'd like to share some news from Apartment Therapy. In January 2013 we had, The Cure, make improvements on your home one piece at a time. There were 23,000 readers online who had signed up in January to clean their apartments, digging up after the holidays, giving away, packing up. The next one is in August 2013.
We also had the fifth annual "Homies" for the best blogs...submit your favorite blogs and others vote and the cream of the crop rises to the top. The four finalists for the Homies were:
Best Home Design & Best Project Blog: Little Green Notebook, Jenny Komenda
Best Family & Kids Blog: Small Things, Ginny Sheller
Best Healthy Cooking & Best Recipes Blog: Civilized Caveman Cooking Creations, George Bryant .
Best Food Photography Blog: Against All Grain, Danielle Walker
We're now having our Renovation Diaries where readers can win $1000-2000. We're selecting three people at a time for the Renovation Diary Round Up (where we feature your step by step renovation progress and provide monetary support towards getting it done in style).
We have the Top Rent Video "Live Within Your Means" which was shown. This one was viewed the most. We like short videos!
Now we will show the film "Growing Farmers" directed by Michael Halsband. It is with The Peconic Land Trust Board Members. It is an extraordinary example of what is threatening farming in the U.S. It takes place in the Hamptons on Long Island, NY. We at Apartment Therapy give 1% of our revenue to to Peconic Farms. Please enjoy watching the film and we will then talk with our 3 guests.
Maxwell:
Now we will present Designing with Farmers: Saving Land & Growing Food in the Modern World. Our first guest is Scott Chaskey. Scott is a farmer, poet and an educator. He has worked as poet-in-residence in numerous schools and museums, throughout New York and in England. Employed by the Peconic Land Trust as a steward of land, he has farmed garlic, potatoes, greens (and sixty other crops) for over twenty years at Quail Hill Farm, one of the original Community Supported Agriculture farms in the country. He is a founding Board member of the Center for Whole Communities (Vt.) and of Sylvester Manor Educational Farm (NY), and is past president of the Northeast Organic Farming Association of New York. He was named Farmer of the Year by NOFA-NY in 2013. In 2004 he edited "Free Concert," the final book of poems by his teacher, Milton Kessler, published by the Etruscan Press, and in 2005 his most recent book "This Common Ground, Seasons on an Organic Farm" was published by Viking/Penguin. He is presently working on another book, "Seedtime," to be published by Rodale in 2013.
MAIN PRESENTATION
Apartment Therapy Design Evenings - Designing with Farmers from maxwell ryan on Vimeo.
Maxwell:
Earth is our home. We are rooted in home. The food speaks of earth. Food and design parallel each other. At home we celebrate special times- the food, the décor, the way we set our table, prepare and eat the food. It is interesting no one woke up and said "I want to be a farmer". It kind of evolves.
Scott:
I went to England to study literature. I got my MFA in writing. To support myself I got 1 pound per hour as a gardener. I lived in Oxford and I got hooked. The English are amazing as gardeners. Morval in Cornwall, England was earliest ground in Britain. It looked out at the English channel. It was the first ground where daffodils, potatoes were grown and sent to London. Edgar Wallace taught him new potato planting in the meadows. It was an extraordinary place for me to learn it and come back to the States.
Maxwell:
How did you end up at Quail Brook Farms?
Scott:
My father and mother-in-law started their Quail Brook Farms CSA in 1988 in Bridgehampton. The first CSA started in 1986. My father-in-law invited me to a meeting with the CSA community that supported agriculture. I came back from California to see who supports CSA's, the seed idea of community. The earliest was started in Japan in the 1970's, then to Switzerland, then Robin Benan in 1986 in Massachusetts.
Maxwell:
The community support buys shares in the farm and become customers right?Scott: Circumvents the idea of capitalism. No one figures out how subversive it is.
Maxwell:
What have you seen as biggest change on Long Island?
Scott:
There are 25 organic farms there now. The biggest change is the young people are getting involved. I came back from the Saratoga NFA conference meting, 1400 go now and 60-70% in their 20's now. It is sweeping the country now.
Maxwell:
What changed in recession? Food movement? Sustainable?
Scott: I think people come to it now, they want meaningful work.
Maxwell:
They want viable work. The land trust brings land prices down so farmers can afford it. How is small farming viable now?
Scott:
The food revolution term people say not there yet. The "health is related to food" thought form has just recently been brought into awareness.
Maxwell:
Package food?
Scott:
We recognize change takes place. We start with the health of the soil.
Maxwell:
Genetic modify seeds support bigger and bigger farms of country. The quality of the food is different. What is the difference?
Scott:
People come to farm and harvest on the farm for CSA- the unusual harvest on the farm. Freshness people taste. Eat fresh food is a transformative thing. It has tremendous effect. The freshness of the food is because the soil has health. The farm was started with healthy soil. There are farms in China 5,000 yrs. old that are sustainable.
Maxwell:
Katie and Amanda please come and join us. Amanda Merrow and Katie Baldwin are the founders of Amber Waves Farm in Amagansett, New York. The pair have been farming together on the east end of Long Island since 2008 when they met during a season-long farming apprenticeship at Quail Hill Farm, also in Amagansett. They are part of the national movement of young people committed to revitalizing America's food system by helping people become empowered and excited to make thoughtful food choices through a deeper connection to their food and the people who grow it. Katie and Amanda have been featured on the Food Network's Barefoot Contessa, The New York Times, the Wall Street Journal and many local publications for their work at Amber Waves Farm. They frequently speak at regional workshops and conferences geared towards organic growers and consumers.
Maxwell:
When I first heard of your farm I thought it was a porn site! (laughter) Now we are getting someplace. I'm from New York. Please give a brief description how you got to farming from your previous lives.
Katie:
I went to University of Southern California where I studied foreign policy. I entered into a world of policies. The food policies were the missing components. I didn't know how they were created. I wanted to know the root of creation. I decided to leave and as leaving I got Scott's book Common Ground as a going away present. I ended up on Long Island farming. I could have gone to agriculture school but the better way of learning was to do a farm apprenticeship. I wanted to get my hands dirty. It seemed to be the better option.
Maxwell:
Are you surprised you are still doing it?
Katie:
A lot of people are surprised I'm still doing it. I was taught by Scott how to dig a potato, drive a tractor, plant seeds. No other option, it felt good and passionate.
Maxwell:
Amanda tell us how you got to farming?
Amanda:
I found out from college about Quail Hill Farm. I had a degree in economics and put it to good use. I found Scott and Katie and what my life was about. I cultivated there is no separation of what do for living and do for your life. Feeling joy is important, meaningful, and impactful.
Maxwell:
Is farming really joyful? Farmers usually say it is hard work, why? So we don't do it? There is the business of farming and then running a business.
Scott:
Amanda is good with numbers. Business is not fun. It is hard.
Amanda:
You run a small business the same as any other small business. The challenge is balance in necessary projects and actual farming.
Maxwell:
What is the biggest challenge of business- customers? Marketing? Which is the toughest part?
Katie:
The different farming within the season. There are unforeseen challenges. The challenge specifically on the East End is there are so many wonderful people that still go to Montauk, NY farmers market. The challenge is educating the customer to part with variety, price and taste difference. The most rewarding is they come back and say I love it or they hate it or hey try something different.
Scott:
There is the Sag Harbor market, Montauk Market, we do wholesale, sell to restaurants. We cover as many basis as we can. Changes need to be made to make the country realize the value cost of doing CSA's.
Maxwell:
Just like there is the handmade sofa that costs $4,000, why should consumers pay that? Let's educate them - people make it themselves, appreciation goes into it, that is why there is a price difference.
Scott:
Circle wider. Have a requirement that every citizen grow one plant and then have recognition on what farming is about. Is you country better in the end than anyone else?
Amanda: In this area we have access to best chefs and restaurants, the most discerning clientele in country.
Maxwell:
Are chefs good customers?
Katie:
When in the wind, the word got out of women who run farming. The ABC Kitchen chef heard the whispers and wanted our wheat berries.
Maxwell:
Word spreads and chefs look to see what other chefs are doing.
Amanda:
Yes...who has more farm products on their menu. We had a run on kale this summer. People got aggressive over it.
Maxwell:
We will open questions up to our audience now.
Audience Member #1:
I want to comment you on excellent interview. I shop farmers market and find organic produce lacking. Is organic better? Can you recommend places?
Scott:
The green markets in the city.
Amanda:
A great resource is www.localharvest.org, www.realtimefarms,com, local CSA and farmers markets.
Kate:
We are staunch "organicans" not USDA certified. The organic farmers groups cannot advertise because you cannot use USDA certified legally. Ask them at the booths "how do you grow your food?"
Scott:
It is very important to eat organic. You must promote diversity in your field. We constantly lose variety. You support diversity when you buy organic.
Maxwell:
In Whole Foods, go to the organic room.
Audience Member #2:
What is the economics of the whole thing? Not capitalism. Go into percentage of money back into CSA,. Does the money circle work? Does it work for other businesses?
Scott:
The land trust protects 10,000 acres on East End of Long Island. It is impossible to farm on long Island unless you have land. The value of land by development ability in U.S., the cost of land is so high. The younger people have no land, how do they get into it?
Katie:
Examples of CSA model are when the consumer invests in the producer in a way. Fisherman CSF (Consumer Supported Fisherman) they wanted to start this and use the CSA model. This model is applicable to many industries. You buy shares in the farm. There is yearly pay and a certain amount of food. The consumer signs an agreement of the risks and rewards. It's a share, a risky business.
Audience Member #3:
My family are dairy farmers in South Dakota where I grew up. We could give milk to a lot of folks. How can you start to provide at your quality level when you can't afford it? CSA's are not always feasible. Is there education nationwide?
Scott:
Do it through innovative collaboration; land trust work with farmers. Stonybrook Medical School gave a nutritionist grant money to work with food for low income areas. We grew plants, and set up 11 gardens in Suffolk County to train gardeners to grow. Collaboration involves health. At hospitals feed patients healthy.
Maxwell:
Problems solved in all areas. Start with metropolitan areas, spread the goal right?
Katie:
For food issues —start locally it's best. Give food stamp cards EBT for low income folks to come to markets. It's great and educates them. Other food subsidies to be cheaper (not organic).
Maxwell:
Why?
Amanda:
Food is sold as a commodity like corn, tobacco, etc. When it's subsidized, it brings bad food way down and makes good food expensive.
Maxwell:
What is a good season to visit you all?
Katie:
Come in September. The food is bountiful, the beaches are warm. June is a nice time too.
Amanda:
July is exciting—its my birthday! And the wheat, garlic and cherry tomatoes are ripe.
Scott:
October is quite beautiful. The harvest is extraordinary.
Maxwell:
How do we get involved from NYC if we come out?
Katie:
Amazing location we have—right off Main Street. We have an open door policy. We are an educational farm and access to the public.
Special thanks to Jennifer Ellen Frank of Anasa Interiors for transcribing our Design Evening!
Thanks to our host and sponsor ABC Carpet & Home
Tonight's Design Evening sponsor Sokol Blosser Winery has been producing exceptional cool-climate wines since 1971. Nestled in the Dundee Hills in the northern Willamette Valley of Oregon, Sokol Blosser's Pinot Gris has exceptional long-term aging potential and exhibits aromas of mineral, stone, citrus and spice with crisp flavors of apricot, apple and fig on the palate. The winery is currently under renovation with plans to create a tasting room experience that is thoughtful, timeless and deeply rooted in sense of place. The new facility, slated to open this summer, is intended to lift the spirits and heighten the total experience of the wines, the vineyards, the estate, and Willamette Valley.