Annie's Historic Studio at "The Shire" in West Hollywood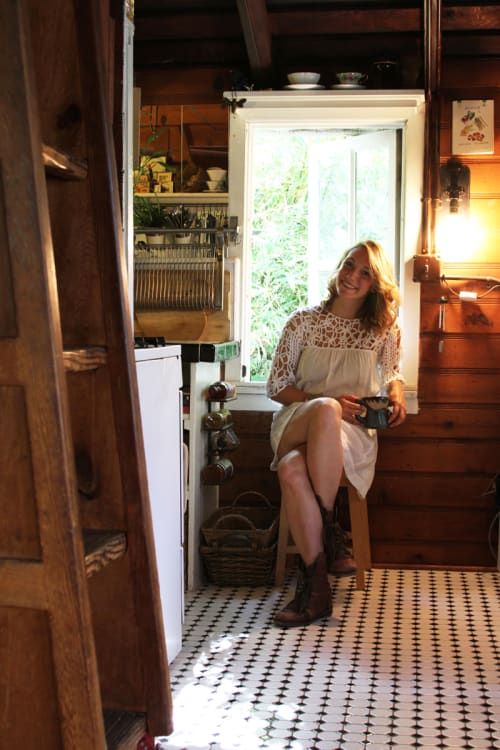 Name: Annie McCain Engman
Location: West Hollywood; Los Angeles, California
Size: 550 square feet
Years lived in: 2 years
One of the great gems of Los Angeles is a historic apartment community built in 1924 by Charlie Chaplin's studio stage crew. The property is made up of character-filled bungalows and includes a total of 25 apartments. It was originally built to house Hollywood actors, staff and crew, but the current apartment dwellers have nicknamed the community "The Shire."
Annie is an actor and casting director, but always wondered if she should have attended design school, since she has a passion for architecture and interiors. When decorating, Annie loves to use objects for unintended purposes. Did you notice the round suitcase in the living room housing her lingerie? But by far my favorite unintended use is the hat that she uses as a lamp shade.
Apartment Therapy Survey:
My Style: Cozy on the cheap: chain store hardware + yard sale gleans.
Inspiration: Having grown up around vintage tools and natural keepsakes, from the influence of my carpenter grandfather to the many wilderness expeditions through the Canadian wilderness (Yukon, Ontario) to the distinctive farming lifestyles of six continents (The Americas, Europe, Asia, Africa, Oceania), I've learned to imagine a decorative place for every viscerally appreciated functional object. General store displays are always an inspiring browse, in that sense, too. Then, of course, packing the car between each move is a yummy game of Tetris!
Favorite Element: Apple boxes, organic materials (branches, plants), mirror play, hanging objects that give the illusion of room separation in an otherwise open space, my gramophone, my film projector, baskets, and musical instruments.
Biggest Challenge: Built-ins make for a fun puzzle and a welcomed challenge, but my actual frustrations come from form over function conundrums. I get stubborn for things to look a certain way, even when it's impractical.
What Friends Say: Comments from friends and visitors are often personal to their lives in what things remind them of (making for a tricky summary), but my favorite gasps upon entry are the ones followed by inquiries to host events in the cottage themselves. To inspire a hearty dinner party is an ultimate joy, in my book.
Biggest Embarrassment: Characteristically unfinished wood surfaces chocked full of tinkeries in their nooks and crannies make it hard to keep up with the dust. I adore modernly bare clean-cut spaces, as I'm actually pretty OCD about the hygienic side of a tidy home. I need an industrial vacuum…
Proudest DIY: When I lived on a goat farm in Olympia, I learned to make efficient use of a slanted ceiling by hanging a rack of painted plywood shelves from industrial hooks, using varying lengths of manila rope knotted under each level board. (I've since customized the same concept in Park City, Utah, Philadelphia, Beverly Hills, and West Hollywood.)
In Quito, I used a small overturned canoe as a table. In Chicago, I used old window screens to hang anything that was able to be hung and a windowpane frame to split a room. In my London flat, I hung whisks from the ceiling to store tea bags and small dry goods. In Philly, I used IKEA panel curtain ceiling tracks to hang a layered montage of maps mounted on foamcore from steel cords and clip hooks. (They hung in a stack together, flush with the wall, and you could rearrange the collage horizontally to feature any one.) In Venice, I used over-sized vintage picnic baskets as a coffee table, whitewashed wooden pallets as a twice stacked bed frame with multi-level shoe storage underneath, and hundreds of pages of the monthly editions of Poetry as well as pages of a road atlas as wallpaper. In West Hollywood, I used rows of four coat hooks to make a vertical shoe rack wall and had mirror tiles cut to specific sizes to "remove" the galley kitchen walls.
Biggest Indulgence: As there's really very little I've ever spent a substantial amount of money on, I would simply say that my greatest indulgence is moving. I so enjoy a new blank slate. As I get older and that becomes less feasible and more consequential, I suppose I lately think of taking that itch to a professional degree so as to be able to satisfy it by styling others' spaces.
Best Advice: Keep as much visible as possible. Experiment with removing closet and cupboard doors and finding creative ways to display things that you would otherwise keep hidden. In accordance with the feng shui suggestion of a top-down approach, hang household items, frames, shelves, etc. from the ceiling instead of using traditional floor sitting pieces. Use objects in ways in which they weren't originally intended. Although it sounds counterintuitive, keep the impractical knick-knack finds when you move and assume you can replace larger items, like furniture, to suit the new space. Also, keep sturdy straps in your car for curbside finds.
Dream Sources: This is a tough one for someone who moves as often as I do! a) It'd be a delicate project to catalog the monumental list of single sellers, specialty mom-pop shops, roadside finds and nature hikes; and b) I increasingly depend on the familiar shortcut of chain hardware like IKEA as a go-to for the larger fill-in items when built-in interiors confine a space to needing something size specific. (With their lowest cost mirror tiles and kitchen bar hanging solutions, too, I often envision their materials right away in a new space.)
For Los Angeles, though, I will say that of course the flea markets are golden; Fairfax Flea on Sundays, The Rose Bowl once a month, and the epic bi-weekly yard sale by a pair of film designers on Fountain Avenue & North Citrus. As an ironic chuckle, TINI (This Is Not Ikea) is a great seller, both in-shop as well as online.
Then when there's something very particular I have in mind that I can't wait to just happen upon, I'll do a 'net search and usually find something shippable on Etsy or Fab. Nothing we haven't all heard before, but which is why they exist in such success.
To share a few favorites when possible to afford them: Broome Street General Store in LA and J. Peterman online (Kentucky based). The prose alongside the items in Peterman's 'owner's manual' catalog are a favorite in my routine reads.

Resources of Note:
ENTRY
Decorative whitewashed ceramic fireplace with imprinted scene: original, Charlie Chaplin, 1920s
Vintage side table: bi-weekly street sale at corner of Fountain Ave. and N. Citrus, Los Angeles (WeHo)
Small rug: Grandpa's
Framed mirror: estate sale, Silver Lake
Standing paper lamp: yard sale, WeHo
Cat tail wall piece: neighbor's garage sale
Surf boards: Craigslist
Wheelhouse collage necklace rack: DIY, metal parts, extreme super glue
WORKSPACE
Shoe wall: vertically stacked wooden rows of four double curled faux vintage coat hooks, IKEA
Large straw beach bag: who knows
Raw lamp: grandpa's
Records: dollar bins, friends' bands
Decorative gramophone: roadside sale, South Dakota, $10
Functioning faux vintage record player (with CD, tape, radio): Target
Apple box craft supply storage: farm sale, Louisiana
Desk and chair: hand me down from a neighbor, IKEA
Framed photo: gift from friend, Wyoming
Set of matching baskets replacing drawers: estate sale, Malibu
Lofted bedframe and ladder system: Charlie Chaplin, 1920s
Wine carrier: estate sale, Beverly Hills
Mirror: IKEA
CLOSET
Wall sized raw mirror panel: discarded curbside find
Green vintage mini case: street sale, Cornwall, England
Skis: leftover from ski instructor stint, The Canyons Resort, Park City, Utah
LIVING ROOM
Back of pew bookshelf: built-in, Charlie Chaplin, 1920s
Hanging wine glass rack: DIY cut to size simple metal undershelf hangers, IKEA
Wine carrying light oak box, Saracina Winery
Mirror on stilts: discarded curbside find, DIY scrap wood stilts added
Tinkery chandelier: left from previous tenant
Yellow leather sitting stool: bi-weekly street sale at corner of Fountain Ave. and N. Citrus, Los Angeles (WeHo)
Tin umbrella cash: IKEA
Umbrellas: Japanese street sale / Australian street sale / Topanga Fiddle Fest (parasol)
Pillows: small yellow pair were grandma's, two larger floor pillows (white, red) are IKEA, fancier handmade and embroidered pillows have come and gone
Foam window seat top: hand cut to size, large foam scrap given by a film industry production designer friend; encased by throw blankets from IKEA for easy washing
Mexican blanket: street sale in Tijuana
Collapsible three-leg leather stool: street sale in Tijuana
Wall mountain magazine racks (doubled) IKEA
Unfinished wooden plant stand shelf: farm sale, Olympia, Washington
Oxidized lantern: swap meet, Barkhamsted, Connecticut
Whitewashed branches: gleaned, DIY
Bongos: friend's
Basket (of Ghanian tambourines and maracas): Reform School, Silver Lake
Ornate lamp: grandpa's
Lamp shade: a straw hat from a vendor stand at the Fairfax & 3rd Farmer's Market
Plants: Hargitay Nursery
Glass lemonade dispenser: film set
Mirror: IKEA
Rug: grandpa's
Apple box shelving: farm sale, Michigan
Slate moose carving decor: roadside art wagon, Alaska
Straw box shelving (collapsible): IKEA
Wooden flower press: a gift from a friend
Painter's jewelry box: yard sale, North Carolina
Vintage hat box (underwear drawer): rural flea market, Victoria, Australia (Kallista/Sassafras)
Vintage side table: bi-weekly street sale at corner of Fountain and N. Citrus, Los Angeles (WeHo)
Yellow pottery dish for keys: handmade gift
70" roving projector screen (attached by carabiners to structural steel cord): online (many vendors)
DINING ROOM
Pew: built-in, Charlie Chaplin, 1920s
Stained glass diner lamp, Charlie Chaplin (Tiffanies), 1920
Expandable table: hand me down from a neighbor, IKEA
Salt jar: Goodwill, Silver City, New Mexico
Pepper mortar & pestle: gift from Mom
Decorative iron hot plate: Maxwell Street Market, Chicago
Pillow: film set
Foam built-in seat top: hand cut to size, large foam scrap given by a film industry production designer friend
Seat top fabric: Mood Fabrics
Vase: I save glass bottles
KITCHEN
Pot/pan/silverware/hanging hardware: IKEA
Tea boxes, mini art frames, glass bottles, cookbooks, ceramic mugs, dishware, china, glass storage jars, mini blender: collected
Mirror tiles: IKEA
Bathroom door hanging hardware: IKEA
Floral apron: Topanga Fiddle Fest flea market at Paramount Ranch
Fauna: part of a saved arrangement from a wedding done by Gather Events
Elevated sponge shelf: IKEA
Bamboo in glass cylinder vase: IKEA
Wall hanging collapsible dish rack: IKEA
Cutting boards: handmade by friend Jordan Oaks (soon to have a website)
Vintage hummingbird feeder: grandma's
Veggie wall calendar: watercolor, Study Hall
4 bottle wall mounted wine rack: Hayneedle
Wicker baskets: collected
Stool: TINI
LOFT BEDROOM
Mattress: warehouse sale
Feather bed mattress top: The W Hotel
Pillows: Target
Sheets: Fab.com
Adjustable neck reading lamp: IKEA
Cut tail wall piece: neighbor's garage sale
Surf boards: Craigslist
Stained glass windows: original, Tiffanies, 1920s
Thanks, Annie!
(Images: Marcia Prentice)
• HOUSE TOUR ARCHIVE: Check out past house tours here.
• Interested in sharing your home with Apartment Therapy? Contact the editors through our House Tour Submission Form.
• Are you a designer/architect/decorator interested in sharing a residential project with Apartment Therapy readers? Contact the editors through our Professional Submission Form.
Apartment Therapy supports our readers with carefully chosen product recommendations to improve life at home. You support us through our independently chosen links, many of which earn us a commission.