Here's How Antoni Porowski Keeps His Tiny Kitchen Organized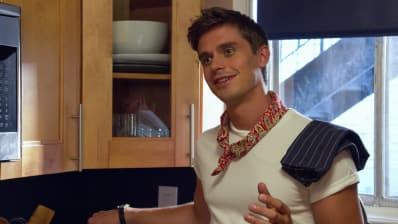 (Image credit: Courtesy of Netflix)
Antoni might be best known for slinging guac and upping folks' culinary games on the hit Netflix reboot of Queer Eye, but he's also an expert at working within a small space. The food guru recently chatted with Architectural Digest on how he makes due with his tiny studio kitchen.
"My kitchen is limited at best," he tells AD. "I have one drawer. But I make do with what I have; it's taught me to be super efficient in terms of how I clean and how I put things away. I have to clean as I go because I tend to be on the messy side."
In addition to everything having a place, he espouses the classic decluttering rule of one in, one out.
For every new thing that I buy, I have to throw something out. I love my kitchen gimmicks; I have a pasta machine because I don't have the counter space to actually make fresh pasta. I have a juicer, a juice press, a food processor. So the next time I get something I'm going to have to get rid of one of my babies, and I don't even want to take that on right now.
While some might think that you can't have a tiny kitchen and have room for storage of kitchen gadgets, we love that Antoni strikes a balance between the things he needs and wants and what can work in his space.
To hear about Antoni's dream kitchen, who he thinks is the best entertainer among the Fab 5, and more, head on over to Architectural Digest.