Apartment Therapy Goes Mobile!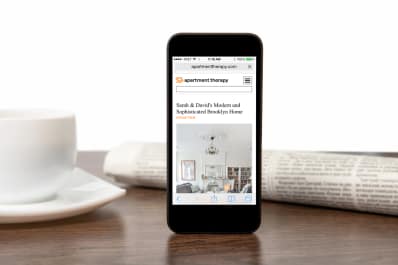 Dear Readers,
We launched the first responsive mobile design of Apartment Therapy and The Kitchn last night. It provides an optimal experience on any device (check it out right now by making your browser window smaller if you're not on a phone or tablet already).
It was inevitable, as we've watched our mobile readership grow significantly in the past 24 months. Every day more folks read our two sites via Facebook, Twitter and Pinterest off of their mobile devices. Social Media and mobile go together and we GET IT. Five out of ten of you are probably reading this on your phone, and it just got BETTER.
Starting today, you will always have the best version of Apartment Therapy and The Kitchn facing you wherever you are, on whatever device you favor. In the next two months we will be surprising you again with a second re-launch. :)
Modern media is not about making all the horses come to the central well, it's about spreading the word and bringing water to everyone, wherever they are. That's what we've been doing and will continue to do, both in our writing, photography and our site structure. We enjoy doing this so much, why would we want to do it any other way?
Best, M