Apologizing? There's an App for That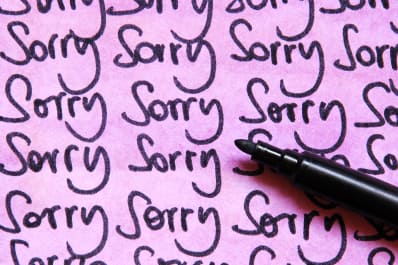 (Image credit: draganajokmanovic/Getty Images)
Starting tomorrow, apologizing will get a whole lot easier. Former MSNBC news anchor Greta Van Susteren announced via Facebook that she's releasing a new app, Sorry, for free on November 14th.
Van Susteren has been working on the app for over a year and hopes it will revolutionize the way we apologize. It will function as a way to say sorry in our interpersonal relationships, as well as allow the general public to respond to a celebrity or company's public apology. Whatever you may think of the app, you certainly can't argue with the fact that it's timely.
She said in her Facebook post:
Yes, you know "you've got mail" well...I am hoping people will start saying "you need the APP" (but in good spirit.)
You will get to 'accept or reject' apologies from a friend (kept private between you and your friend) or 'accept or reject' apologies of public figures which we ALL get to see and vote to accept or reject. We all get to see what others think about accept or reject of public apologies when we see the numbers roll in on those very public apologies...We have done the research and people apologize on social media more than 475,000/ a day.....and just google the words sorry, apologizes, apology...and see the celebrities out there and the corporations and even nations apologizing.
We'll have to wait and see how the nuts and bolts of the app work, but hopefully we can program in some of Issa Rae's stay-at-home excuses just in time for holiday party season.
More apps to simplify and streamline your life:
h/t The Cut