Apple Is Pushing For More Inclusive Emojis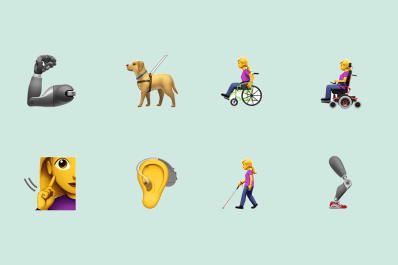 (Image credit: Apple)
With more and more emojis getting added each year, Apple is petitioning to tackle one seriously overlooked category: those with disabilities.
The tech company announced this week that it's petitioning Unicode, the consortium that decides what emojis are official, to include accessibility-friendly in the next release.
There are thirteen proposed emojis, from wheelchairs and hearing aids to service dogs and prosthetic limbs. Apple reached out to organizations like American Council of the Blind, Cerebral Palsy Foundation, and National Association for the Deaf to ensure the representation is fair and accurate.
"Apple is requesting the addition of emoji to better represent individuals with disabilities," the introduction of the proposal states. "Currently, emoji provide a wide range of options, but may not represent the experiences of those with disabilities. Diversifying the options available helps fill a significant gap and provides a more inclusive experience for all."
They go on to state that "one in seven people around the world has some form of disability, whether that be a physical disability involving vision, hearing, or loss of physical motor skills, or a more hidden, invisible disability," and that this set "is not meant to be a comprehensive list of all possible depictions of disabilities, but to provide an initial starting point for greater representation for diversity within the emoji universe."
The set of proposed emojis are:
Guide dog with harness: A guide dog shown with a harness, for people who are blind or who have low vision
Person with white cane: A person shown with a probing cane and coded for gender and skin color variations
Ear with hearing aid: Since a hearing aid on its own might not be visible at emoji sizes, with skin color variations
Deaf sign: An index finger pointing to the cheek, representing the 'deaf sign' gesture in American Sign Language, with gender and skin color variations
Person in mechanized wheelchair: A person in an electric wheelchair with gender and skin color variations
Person in a manual wheelchair: With gender and skin color variations
Mechanical or prosthetic arm and leg: A mechanical or prosthetic version of the Flexed Biceps emoji and new Leg emoji
Service dog with vest and leash: To distinguish between a guide dog for low vision, this one is intended for detection of seizures or other "hidden disabilities", according to the proposal