Apple Accessories With Natural Wood Finishes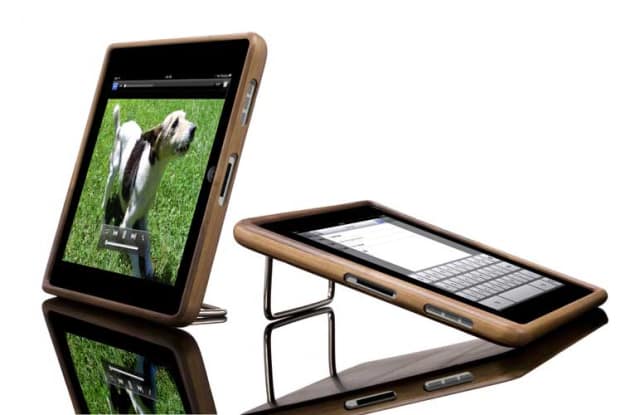 There's something very appealing about the contrast between technology and the natural elements. Recently, there has been growing popularity in wooden-inspired phone and laptop accessories as many designers create gear that seeks not to disrupt the already sleek and quality design of Apple products, but to complement the minimal aesthetic by softening its edges with a wood finish.
Colors Tokyo
These hand crafted iPhone cases are formed in a traditional Japanese technique called "lttoh-bori," meaning carved by single traditional carving knife. Several fine-selected Japanese wood finishes are available. $160
Workerman
From this handmade craftsman comes the MacHook, a simple hook that attaches to your 24 or 27 inch iMac with a removable 3M adhesive strip. Each MacHook is made from Baltic birch for $15.
Etsy
Okay, so maybe it's not actual wood, but this vinyl macbook and laptop decal will give your laptop the appearance of a natural wood finish. These laptop coverings can be easily removed from your computer and are available in any size. $20
Rainer Spehl
This Berlin-based furniture, interior and exhibition designer works a great deal with natural materials in his product designs as well. His Wooden Laptop Case includes a leather lining and magnetic closing device, and is available for 13, 15 and 17 inch MacBook Pros. Worldwide shipping is available. Visit rainerspehl.com for purchasing information.
Koostik
This company handcrafts all kinds natural wood accessories for Apple laptops, iPhones and iPads. Shown here: the Koostik . Available in maple, walnut and cherry wood finishes, the Koostik has specially designed sound chambers that create rich and natural acoustic amplification. $90
Areaware
Made from sustainably harvested new growth beech wood, the Alarm Dock by Areaware seems to recall those old wood grain flip clocks of the yesteryear. The current model works with a special app for displaying the time and is currently compatible with the iPhone 3, 3GS and 4. $40.
Vers Audio
Not only does this company create great, natural wood tech accessories, but for every tree they use in production, they plant 100 more through a partnership with the Arbor Day Foundation. Shown here, the Slimcase. This two-part case is available in walnut or bamboo and features a metal stand for angled typing or display. $80.
Image: Vers Audio