How I Saved $625 During My Home Refinance With One Simple Trick
We
independently
select these products—if you buy from one of our links, we may earn a commission. All prices were accurate at the time of publishing.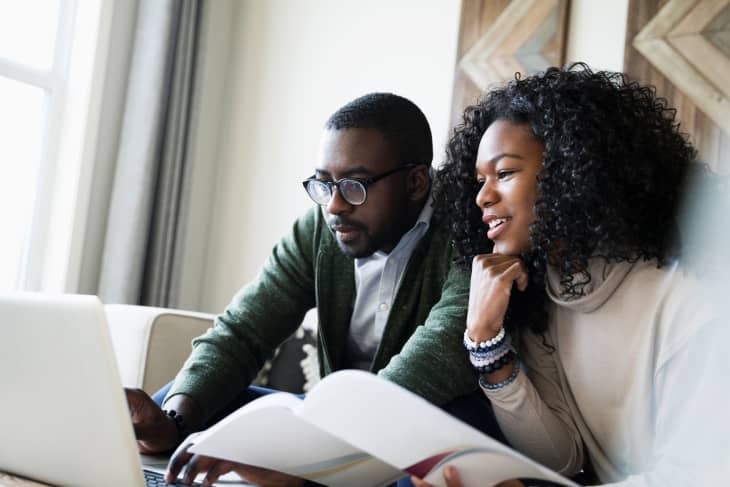 Refinancing your home mortgage comes with so many fees it can make your head spin. There are fees for processing, fees for title insurance, fees for recording the deed—the list goes on and on.
But there's one fee you don't necessarily need to pay, depending on your situation.
During the refinancing process, your lender will typically order an appraisal of your home to determine its current value. Wait a minute, you're thinking, but didn't I get an appraisal done when I bought my home in the first place? Yes, you did, but chances are some time has passed, which means the value of your home likely changed for better or for worse. As with your original home loan, a refinance involves your lender letting you borrow tons of money—hundreds of thousands of dollars, in most cases—and they want to make sure your home is actually worth it. Worst-case scenario, if you default on this new loan, they need to know that they could recoup their investment by selling your property.
Depending on where you live, a home appraisal can range in price from $300 to $700. Where I live in Colorado, an appraisal runs about $625. And that appraisal fee comes right out of your pocket, whether you're buying a new home or refinancing your existing mortgage. Sure, in the grand scheme of your mortgage, a couple hundred dollars isn't much. But every penny counts when you're trying to make savvy real estate moves, and that's money you could be spending on home renovations or landscaping.
I learned recently during my home's refinance that you can avoid this appraisal fee altogether with one simple factor: An appraisal waiver. As the name suggests, an appraisal waiver simply means that your lender doesn't require an appraisal in order to move forward with your loan. In addition to saving you money, an appraisal waiver can also speed up the refinancing process. But why would a lender forego the appraisal? And how does the waiver work exactly? Here's what you need to know.
You need a certain type of loan to get an appraisal waiver.
To get an appraisal waiver, you need to be applying for a certain type of loan. Specifically, a conventional loan, AKA one that's backed by a private lender. You can't get an appraisal waiver for a VA loan, an FHA loan, or a USDA loan, which are all types of loans backed by the federal government.
Fannie Mae and Freddie Mac, the government-backed enterprises that help lenders originate mortgages, set the rules for appraisal waivers. (Fannie Mae and Freddie Mac don't give out mortgages, but they do buy them from your lender on what's known as the secondary market.)
When you apply for a mortgage refinance, your lender takes steps to evaluate how risky you are as a borrower. This is why they ask for so much information about your finances. In addition to their own due diligence, they may also run your paperwork through a special underwriting software offered by Fannie Mae or Freddie Mac.
The software spits out a recommendation: Yes, this property requires an appraisal or no, this property is eligible for an appraisal waiver (we're paraphrasing a bit here). Because Fannie Mae and Freddie Mac have access to so much mortgage data, the software can comb through tens of millions of appraisal reports to see how your home stacks up.
If your lender chooses to take advantage of this appraisal waiver, they'll come up with their own estimate of how much your home is worth and present it to you during conversations about your refinance.
Appraisal waivers are becoming more popular during the coronavirus pandemic.
Appraisal waivers are, by and large, pretty uncommon in the world of real estate (Fannie Mae's website says that "the majority" of homes will not receive an appraisal waiver offer.) However, the coronavirus pandemic has made them more popular. Why? Because social distancing and quarantine guidelines make it more challenging for an appraiser to visit your home in person. In fact, Fannie Mae even encouraged lenders to waive appraisals whenever possible during the pandemic. Other less-invasive appraisals are also on the rise because of COVID-19.
"Appraisal waivers are uncommon given the critical importance of accurate property valuation in real estate transactions." explains Glenn Brunker, a mortgage executive at Ally Home. "However, Ally has seen an uptick in exterior-only, where the appraiser evaluates the property without going inside, and desktop appraisals, where home value is derived from existing data about the property, due to COVID-19 concerns."
Fannie Mae began offering appraisal waivers in August 2017 to give borrowers more flexibility. They've been quietly humming along in the background ever since. Their use during the pandemic, however, will likely raise greater awareness among borrowers. 
Bottom line: Don't be afraid to ask your lender about whether you're eligible for an appraisal waiver, now or in the future.
"It's not taboo to make the ask of a lender, so long as homeowners meet the necessary qualifications," Brunker says.
To get one, you also need a certain type of property.
Speaking of those necessary qualifications—the rules vary between Fannie Mae and Freddie Mac, but generally speaking, if you're refinancing a single-family home or a condo, you're eligible. You may also be eligible for an appraisal waiver for a second home or an investment property, depending on how much money you're asking to borrow. Appraisal waivers are available for some cash-out refinances (when you refinance to pull money out of the equity in your home). 
You aren't eligible for an appraisal waiver if you own other types of homes, such as a duplex, a triplex, a fourplex, a manufactured home, a co-op, or a new build.
Your lender has a say in it.
Though Fannie Mae and Freddie Mac make the rules, your lender gets to decide whether to offer you an appraisal waiver in the end. There are tons of complicated scenarios and exceptions, but the overarching reason for requiring you to get an appraisal, even when Fannie and Freddie say you don't need one, is this: "The lender has any reason to believe an appraisal is warranted," according to Fannie Mae's website. That's pretty broad and all-encompassing, but your lender is the one fronting the money after all. If there's something about your situation that's giving your lender pause, they can require you to proceed with an appraisal. You, of course, are free to shop around with different lenders to make sure you're getting the best terms, which might include an appraisal waiver.
Pro tip: Your lender is more likely to offer an appraisal waiver if you're a rock-solid borrower—sky-high credit score, little to no debt, a history of consistently making payments on time and in full, and tons of existing equity in your home.
You can still request an appraisal, if you want.
It's your house, after all, and you can always request an appraisal, even if you qualify for a waiver. You may simply want to know what an independent appraiser thinks about your home's value, period. Maybe you've completed extensive, value-adding renovations since you bought your home. Or maybe you feel that your lender's estimated value for your home is too low, which could mean you aren't getting the best financing terms. You always have the option of an appraisal, just keep in mind that you'll be the one footing the bill.
"It's always good to know what a professional thinks a home is actually worth, especially because an appraiser is going to compare it to similar homes in the area," says Jeremy Sopko, CEO of Nations Lending.