Art Studio in a Penske Truck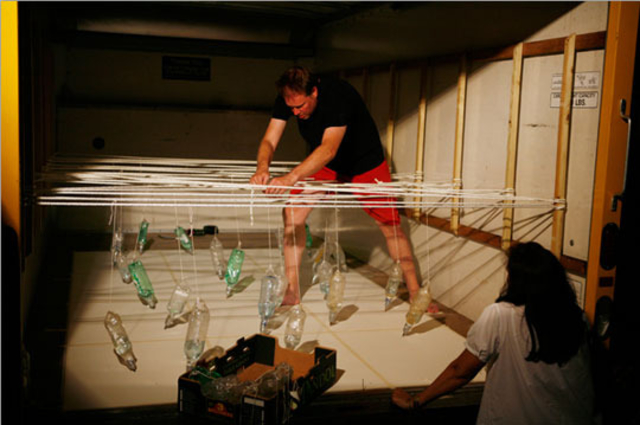 Ten years ago, artist Dave Ford was working a day job as an art handler. Tasked with delivering art from New York to Miami, he wanted a way to create art during his road trip. Suspending a pencil-tipped water bottle over a piece of paper in the passenger seat of the truck cab, Ford made his first Truck Drawings, images created by the movement of the truck along highways and byways: "It started to all make sense to me," Ford recalls. "It was mirroring what was going on outside. The drawings had a map-like quality to them."

Since then, Ford has dedicated himself to making Truck Drawings, now using the entire bed of rented Penske Truck Rental trucks. Rigging webbing across the bed, he suspends water bottles filled to various levels, tipped with different weights of lead, so as to control the angle, pressure, and darkness of each. He then drives various routes around the country, creating unique abstract images that each represent a particular geographic, topographic and temporal journey.



Watch a video about Dave Ford's Truck Drawings below!






(Images: 1 Heriberto Ibarra; 2 & 3 Dave Ford; 4 & 5 Andrew Griego; 6 & 7 Jodi Morton; 8 Chrissy Kleberg; 9 Armando Alvarez)