I Tried the Quickest — and Cheapest! — Way to Get Gallery-Worthy Art on a TV Screen
We
independently
select these products—if you buy from one of our links, we may earn a commission. All prices were accurate at the time of publishing.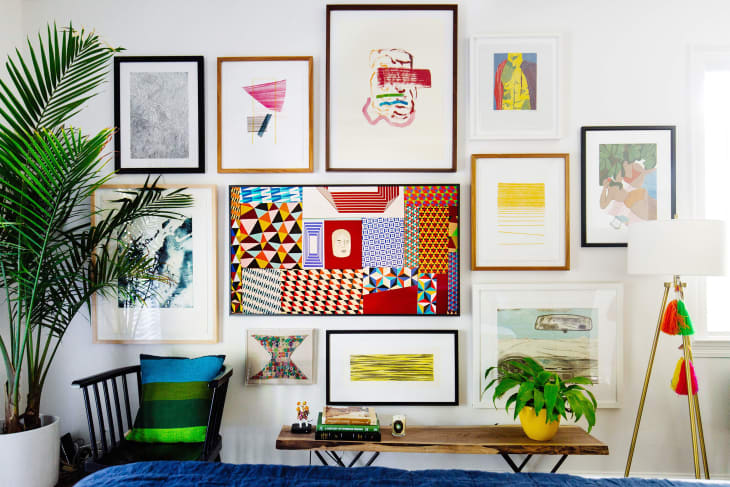 Ever since Samsung introduced The Frame TV, I've been enamored. The idea of enjoying beautiful artwork instead of staring at an uninspiring black screen (that is, when I'm not binge watching home design shows!) is unarguably a design win. In my own living room, the TV is mounted between two tall bookshelves on the wall that guests see first when they walk into my home. It's only natural to want a "first impression wall" to, well, make a better first impression. 
Moreover, I see this wall all day, every day, and I'm admittedly someone who appreciates pictures more than picture quality. So it's no surprise that when it was time to replace our living room TV a couple of years ago, I pitched my tech-enthusiast husband hard. Back significant trade offs existed — including a heftier price tag! — so ultimately I agreed to a model that promised a higher-quality picture in lieu of fancy art and an attractive wood frame. Let them work out the kinks, and next time it's mine, I told myself. 
Until then, I set out on a quest to find another way to enjoy art on my TV screen. While there's no shortage of apps and DIY tutorials out there, each requires a different level of tech-savviness to pull off. Even some of the four-step how-tos felt overwhelming to me, especially when I thought about the time it'd take me to curate the actual art first. After a number of false starts and idling for longer than I care to admit, I knew I had to finally find a fool-proof way to display art on my TV screen and if that came with a price tag, I was ready to pay it if it meant I didn't have to stare at the black void on my wall.
That's when I learned about artcast. For $2.99 (plus tax) a month, this app not only gives you access to over 100,000 works of art — everything from world-class museum collections to today's most exciting artists from around the world — it makes streaming your favorites incredibly quick and easy. I'm talking three-minute-setup easy. 
On my Sony smart TV, I searched for artcast in the Google Play App Store, verified my identity using my Google account on my iPhone (it's even simpler if you have an android), and plugged in my credit card info after agreeing to the terms of the free seven-day trial. The rest is so user-friendly, it seems silly to even explain, but what you need to know is that the app works just like Netflix, Hulu, etc. Select the artcast app from your home screen when you want to, well, watch art. (If you don't have a smart TV, external streaming devices like Apple TV, Roku, Amazon Fire, and Chromecast with Google TV are all compatible, too.)
Once you're in the app, the artwork is neatly organized into galleries, which helps you quickly find the type of art you're in the mood for using. By favoriting individual works, you can also curate your own custom e-gallery. It's all about customization really; you can select how long you want a piece of art to be displayed (think slideshow or static), choose if you want background music (not bad, but Amazon music gets my vote when I'm at home), and pick a frame and matte combo (I prefer the off white and black matte options to the white, which skews a little blue on screen, but you also don't really need to select a matte if your TV has a substantial black frame ,since it shrinks the size of the art down).
Despite endless art options, navigating the app is super-intuitive. It provides options without overwhelming, and I love that there's a shortcut for recently-viewed art and galleries. My only minor complaint is that you can lose sight as you navigate through the grid if you're not watching or moving slowly because there's only a subtle size increase. Definitely not a deal breaker, but an update I hope artcast makes in the future. Regardless, I think having a conversation piece on one of the largest walls in my house is worth the $3.25 a month — especially when company's coming.

This piece is part of Art Month, where we're sharing how to find, buy, and display art in your home, and so much more. Head on over here to see it all!