Ask a Pro Organizer: What Organizing Products Are Worth Buying?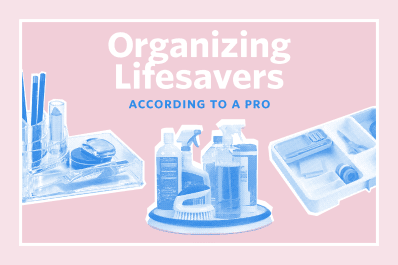 Staying organized from day to day is no easy feat. Throw a small, storage-deprived apartment and, you know, life into the mix—and suddenly keeping your sh*t together becomes daunting, if not darn near impossible. And while the web is brimming with promising organizational products, deciding which ones are actually worth your money is a whole different story.
Thankfully, we have Sharon Lowenheim, aka the Organizing Goddess to call on for help. We asked her what products are truly the lifesavers they claim to be—as well as which ones are merely smoke and mirrors—and she certainly had a lot to share. From Command Hooks to wall-mounted coat racks, here are nine organizational items The Organizing Goddess swears by—and a few she could do without.
1. Shelf Doublers
"You can double your cabinet space by simply adding additional levels to your cabinets." Lowenheim explains, "I also use them in my refrigerator to better see small items. There are even longer, adjustable versions that can be used effectively on closet shelves."
2. Drawer Organizers
According to Lowenheim, you can turn your junk drawer into an organizational masterpiece in no time with nothing more than a drawer organizer. "You'll be able to see everything in the drawer, and know that each time you return to the drawer, your items will be in the same place as before, without shifting to the back. Whether it's a desk drawer or a kitchen drawer, a drawer organizer will be your new best friend."
3. Command Hooks and Strips
"3M's Command product line has an amazing array of hooks, strips, and other items that won't damage your walls." Lowenheim says, "My favorites are the hooks. I use them all over my home: potholders and utensils in the kitchen, clothing in the bedroom, handbags in the closet. They also have products that work on bathroom tile, and then there's my new favorite: a jewelry organizer!"
4. Makeup Organizer
"Corral the cosmetics you use every day into an acrylic organizer that lets you see everything," Lowenheim suggests. "Keep this where you do your makeup and put the items you use less frequently someplace else. This will speed up your daily routine, and also help you to figure out what you really don't need anymore."
5. Lazy Susans
Looking for an easy way to maximize your kitchen cabinets? "Solve the problem of deep cabinets by using a turntable." Lowenheim says, "If your cabinet shelf has enough space, you can even get a double decker one!
6. Under Bed Box with Wheels
"I'm not a big fan of storing things under the bed (because things can get dusty) but this Long Underbed Box with Wheels from the Container Store is the best alternative. It is long and narrow, has a hinged lid, and best of all, it has wheels to facilitate sliding it in and out."
7. Medicine Cabinet Organizer
"All of those small tubes and bottles that tend to get lost in your medicine cabinet can now have a home," Lowenheim says of buying a medicine cabinet organizer. "Items that take up too much room when lying down – but which can't stand up on their own – will be easily seen."
8. Wall-Mounted Coat Rack
"Take the pressure off your closet by providing quick and easy storage for the coats you and your family wear every day." Lowenheim says: "Rather than struggling to hang up the coat that you are just going to put on again tomorrow, use a wall-mounted coat rack in your entryway. It also comes in very handy when guests come over."
9. Flocked Hangers
"Using uniform hangers throughout your closets has a calming effect on your psyche," Lowenheim says. "I like these flocked hangers because they take up very little room, and also prevent clothes from sliding off. The only exception would be for suits and coats, in which case I prefer flat (not curved) wooden hangers."
And here are a few products that really don't deliver...
1. Vacuum Space Saver Bags
"A lot of my clients who have tried these types of bags have reported that the seal is not reliable." Lowenheim says, "I am of the opinion that if you need to vacuum-seal your clothes, you have too many clothes!"
2. Card Keepers
"Bulky greeting card organizers simply take up too much space." Lowenheim explains. "Try stashing them in file folders (you can fit two side by side) or inside empty stationery boxes instead."
3. Opaque Boxes
"It's been my experience that if you can't see what you own, you'll probably forget you have it." Lowenheim says, "Opaque boxes are okay if you need to store something unattractive in plain sight, but if you are storing things in a closet or a cabinet, always opt for clear containers."
Apartment Therapy supports our readers with carefully chosen product recommendations to improve life at home. You support us through our independently chosen links, many of which earn us a commission.