Asya's Luminous Loft

Name: Asya Palatova of gleena
Location: Pawtucket, Rhode Island
Size: 750 square feet
Years lived in: 5
The first thing we noticed about Asya's light-filled loft was how similar her home feels to the delicate ceramics she creates under the name gleena. Both the space and her handcrafted porcelain dishes have a minimal quality, but her playful color palette and use of graphics give both the loft and the tableware a warm approachability.


Sculptural elements dominate the space: Asya's own artwork, collections of smooth rocks, even the unique staircase built at an angle to allow enough room for someone to pass underneath. Everything from the varied, but well-matched, paint colors to the carefully curated artwork from friends creates a cohesive visual harmony. That's not really a surprise considering Asya also works as a graphic designer whose impressive resume includes past stints at Martha Stewart Living and Pentagram. She has devised a place equally well suited to quiet relaxation or tasteful entertaining — two activities that would also provide the perfect opportunity to use gleena's gorgeous cups, plates, and bowls. To see more of Asya's surprisingly affordable porcelain creations, visit gleena.com.

Apartment Therapy Survey:
My style: Modern with a classic/vintage lean
Inspiration: My grandmother's St. Petersburg apartment. Her and her husband were architects, and lived in one room of a communal apartment in the center of St. Petersburg, Russia. The way they used the space made it seem bigger than it was. She surrounded herself with her watercolors, her husband's paintings and the art of her friends. It was also filled with plants.
Favorite Element: The large wall unit of shelves that David Dilks designed and built for me.
What Friends Say: They like to visit because I move things around all the time, furniture as well as the books and ceramic pieces. There is always something new to look at. I've rearranged my space at least 15 times in the past five years. That's the great thing about having one open room, you can create the living room and dining room anywhere you want.
Biggest Embarrassment: The sprinkler pipes in my bedroom. The are so low, everyone hits their head on them.
Proudest DIY: The paint job. I love painting walls different colors. It's a very satisfying and relaxing project.
Biggest Indulgence: The wall unit, it was custom built for the space.
Best advice: Move furniture around periodically, even if you don't like where it ends up. Change is great in a space, and by trying out new configurations; you will hit on something you want to live with for a while.
Dream source: BDDW in New York City. They have beautiful hand-crafted furniture. Also, Atlas Industries in Brooklyn, I love their modern/vintage approach to a shelving system.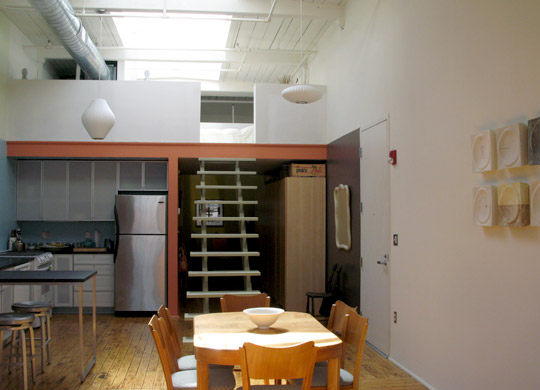 Resources of Note (furnishings, hardware, appliances & materials):
Paint & Colors:



C2, Fava (Stair)


C2, A Cappella (Blue in the Kitchen)


C2, Casablanca (Orange Wall)


Pratt & Lambert, Taupe (Brown Wall)


Pratt & Lambert, Venetian Gold (Wall in Reading Nook)


Pratt & Lambert, Olive Grove (Green Wall in the Bathroom)


Kitchen:



Frigidaire Appliances


IKEA Hardware


Soapstone Countertop


George Nelson Bubble Lamps


Living Room:



Mix of vintage, antique and new furniture


Custom-built shelves by David Dilks


Ceramic Pieces by Asya Palatova


Rug from Pottery Barn


Dining Room:

Bedroom:

Artwork throughout the loft: Jennifer Inderland, Susie Nielsen, Alec Baxt, Trisha Krauss, Danielle Leventhal, Claudia Middendorf, Liz Phillips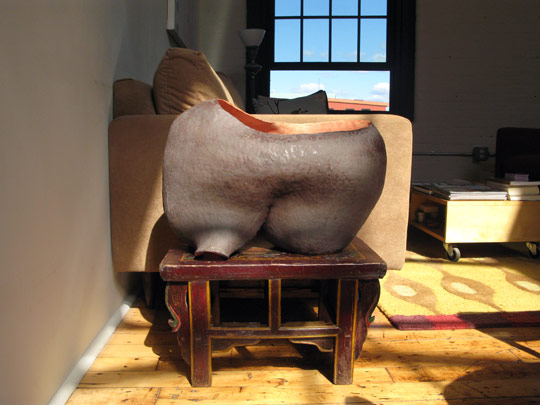 Thanks, Asya!
Images: Sarah Rainwater
Published: Nov 10, 2009