AT Book Alert: Update on Hakarl and Jili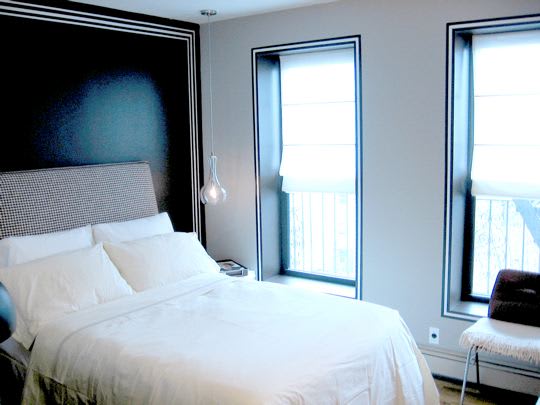 Name: Hakarl and Jili
Home then: Williamsburg, Brooklyn. 550 square feet
Home now: same home but with a revamped bedroom
Hakarl and Jili have been busy transforming their bedroom since we photographed the apartment for our latest book--Apartment Therapy Presents: Real Homes, Real People, Hundreds of Design Solutions
.
Hakarl's desire for an organic creative process means that he is necessarily extremely patient. Pieces for his and Jili's home are sourced anywhere from the street to DWR, while the adaptations/installations that Hakarl thinks up often take a while to implement.
So enduring a learning process, and being in search of the unknown are not barriers for Hakarl, but rather welcome challenges. His latest update includes a subtle framing of the bedroom wall and bedroom windows via the ever useful tool known as painter's tape. In fact, in order to ensure a straight edge, Hakarl decided to make the white lines out of tape that remain part of the permanent design.


And, rather than a simple bedside lamp, Hakarl took it up a notch, literally, and hung a beautiful glass pendant (from Home Depot of all places!), from the ceiling. The original lamp had a green bulb inside which Hakarl easily replaced.
You'll recognize these framed posters from Hakarl and Jili's Small Cool 2006 contest entry of their previous apartment. Their layered arrangement on an Ikea cabinet, with a mixed but same colored set of pottery, lends an exquisite, clean-lined, and calming vignette.
Here Hakarl moved the mirror panels
LINKS to Hakarl and Jili's home:
• Inside Out: Hakarl and Jili Make A New Home
• Close-Up: It's a Bird! It's a Plane! No, its a tree in the living room!
LINKS to Hakarl and Jili's old home:
• Finalist #8: Hakarl and Jili's Bold Bright Moves
• Look! Masking Tape Stripes at H & J's
For all House Tours, click here!
Apartment Therapy supports our readers with carefully chosen product recommendations to improve life at home. You support us through our independently chosen links, many of which earn us a commission.