AT Book Alert: Update on Melissa and Matt

Name: Melissa and Matt
Home Then: 550 sq. foot rental apartment
Home Now: Same home but with new paint, colors and a few new pieces

Melissa and Matt's home is one of the 40 featured in our new book: Apartment Therapy Presents: Real Homes, Real People, Hundreds of Design Solutions
.


We first saw this wonderful space when Melissa entered one of our contests – she sent in photos of her blue and yellow bedroom as an entry in the 2006 Fall Colors Contest. Something about the room stuck with us, and when we were looking for homes to include in the book, hers seemed like a natural…
…and we are so pleased that it all worked out. After approaching Melissa about the book project, we found out more about this AT reader – she is an interior design student who is working her way through school at Design Within Reach and her home is the laboratory where she tries out her design ideas – making for a constantly updated space.

We love the look of the living room as it was a year ago when it was photographed for the book (shown above)…

…but have to agree that it looks great now too, with the new, more muted color palette and very unusual "wall block" paint treatment – take a look at the top portion of the above photo for an example.
Here is what Melissa has to say about the recent changes: "The real change was the wall color and generally a more muted palette. I wanted to play with the notion of activating each wall with color without having to paint every wall completely. Having the accent wall was a way to add color, but I wanted to see if there was another way to unify the open space. Unfortunately the pictures don't show the entire effect, but there is some paint on each wall. I think it worked pretty well."

"Otherwise we added a more comfortable chair courtesy of the Modernica showroom floor sample extravaganza and reorganized some areas.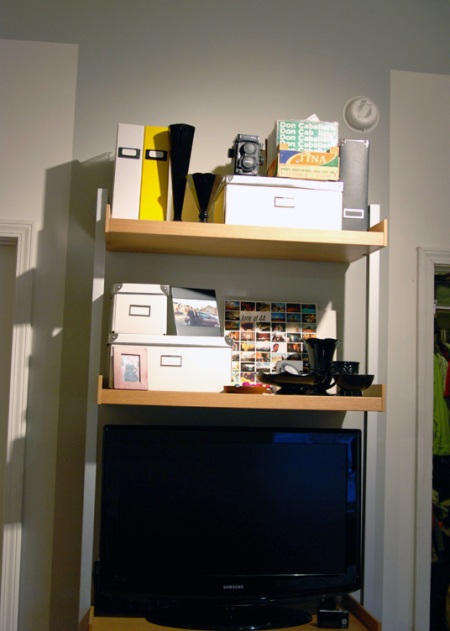 The Treku bookshelf/media was a DWR purchase. We kind of reinvented it for our smaller tv. It takes up a fraction of the space our old unit did and frees up the circulation from the front door to the rest of the space. Probably my favorite change. We're always experimenting, so I'm sure there will be more for the future."
Thanks for the update, Melissa and Matt!

"Before" Photos: Evan Thomas
"Now" Photos: Melissa and Matt
We support our readers with carefully chosen product recommendations to improve life at home. You support us through our independently chosen links, many of which earn us a commission.
Published: Apr 4, 2008