Designer Rachel Castle's Australian Home Is a Colorful Explosion of Fun
We
independently
select these products—if you buy from one of our links, we may earn a commission. All prices were accurate at the time of publishing.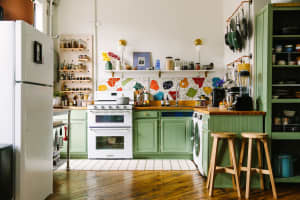 Can't-Miss House Tours Straight to Your Inbox
Keep up with our latest house tours each weekday with our House Tour of the Day newsletter
Name: Rachel Castle, her husband Daz, daughter Cleo, son Lucas, and Sydney the pup
Location: North Sydney, Australia
Size: 2690 square feet
Years Lived In: 8 years, owned
"CASTLE loves having a bit of fun," is the motto behind the quirky Sydney-based brand founded by artist, designer and fun enthusiast Rachel Castle. From her colorful instagram feed to her gorgeous bed linen range to her witty artwork, color and whimsy are two things that define her vibrant body of work. So it's no surprise that this is exactly what defines her beautiful home in Sydney, as well.
Rachel and her British husband Daz bought this house eight years ago, although they lived in it for three years before renovating. The renovation itself wasn't plain sailing for the creative couple; they discovered mid way they weren't allowed to build upstairs (they live in a conservation area). So they decided to keep a part of the old house as the home office, renovate another part completely (which would become the modern living/dining/kitchen), and avoid any renovation work to the upstairs area. "I would love to renovate upstairs but we're reno-ed out at this point," Rachel says, "but the older you get, the more you understand that nothing is ever 'finished' and you just get on with enjoying the nicer parts and ignoring the rest!"
Having moved back to Sydney from London, the inside/outside aspect was one thing the couple really wanted to address in their renovation. "We entertain quite a lot, especially in summer. There's no point living in the glorious Australian sunshine and not have it drench your living space, so we do a lot of BBQ-ing, in and out of the kitchen to the deck." As Rachel opens the beautiful traditional black steel frame windows that go out into the garden, she tells me this was one of the two things she insisted spending money on (the other being the herringbone floor). "Yes I was particular I wanted the steel frame windows. I wasn't sure about black or white, but in the end, just trusted my instincts and went for the more traditional black," Rachel tells me. "Although now I want the white!" she quips.
Apartment Therapy Survey:
My Style: Hectic and organic. It's not that I particularly like a "busy" home, it's just how it naturally ends up. My studio is a pigsty, every wall is covered with images and "stuff" and this naturally ends up happening at home, too. My style changes so often that I could never stop and redo everything, so I just keep adding and adding and adding the things I like, and so it just ends up quite busy.
Inspiration: Simple and honest and uncluttered. So that there is plenty of space for me to then clutter the crap out of it!
Favorite Element: The big dining/living/kitchen space. We can all be in there together doing a myriad of different things, cooking, homework, watching TV, working. Always with Syd lying under the sun from the skylight. The long dining table means there's plenty of space for everyone to do their thing and we can leave our junk out until Friday when the cleaner comes. We eat at one end and simply push all the mess down the other.
Biggest Challenge: We bought our house and after living in it for three years finally got around to renovating. We'd done a reno before, but were living overseas at the time while the house was done back in Australia and so the architects were left to pretty much make all the decisions without us. This one, omg, was the other end of a very long piece of string! I was working at home at the time, which meant we had to live through the reno; to move the family and work elsewhere would have been crazy, so it was a pretty intense experience! In the end, to cut a very long story short, we'd booked the builder and had a window we needed to work in, and so could only get council approval for the downstairs renovation. The area we live in has all sorts of heritage rules so we just bit the bullet and decided to do downstairs only because I could not live another day in a house where the dishwasher was 10000 years old.
What friends say: The only things my friends really say are "get out the champagne" and that I have lots of nice cushions.
Biggest Embarrassment: The front part of the house downstairs is traditional, the main area is much more modern, and upstairs is still unrenovated. But the older you get, the more you understand that nothing is ever "finished" and you just get on with enjoying the nicer parts and ignoring the rest!
Proudest DIY: My husband really can make or fix anything, but what he is super best at is putting up an artwork in lickety splits lightning speed exactly where I want it. I reckon it would take him 2.5 minutes between me asking to the piece being hung on the wall.
Biggest Indulgence: The doors, they were custom made in Melbourne, bought up on a truck and installed over a few days. This was the best part of the reno. The other two things I refused to compromise on were the windows and floors. And these are the two things I am happiest with.
Best Advice: We lived upstairs during the reno (don't ask it was rough) for three months, and in the dead of winter at one stage walked from our bedrooms to the front of the house where my office was with parkas to keep from getting wet. If a marriage can survive a live-in reno then you're in a winner but there were many slammed doors (always me) and a lot of laughter, cause it was either that or crying!
Dream Sources: When we started thinking about the renovation I obviously read all the magazines; I have a big library of tear sheets, some are years old now, and trawled Pinterest obviously, and all the major blogs including Apartment Therapy of course. But the one place I really liked looking was the websites of all the architects I liked. I love the cabinetry details, the finishes, the combinations of materials. These places were really good sources of inspiration for me.
DINING/LIVING/KITCHEN SPACE
Bespoke oak table from Ben Sibley
Painted stools from Mark Tuckey
Rug from The Nest
Cushions from CASTLE
Oluce Pendant light from Euroluce
Flos Wan S little pendant light from Euroluce
Togo sofa from Ligne Roset
LOUNGE
Sofa from MCM House
Cushions all from CASTLE
Coffee table by Mark Tuckey
Rug by West Elm
Print from THE STANDARD STORE
Light pendant from SIBELLA COURT
MASTER BEDROOM
All bedding by CASTLE
Artworks by Rachel Castle
Bedside table by Mark Tuckey
Stripe cone by PLAINE
BEDROOM
Bed by Mark Tuckey
Bedding by CASTLE
Artwork by CHUCK CLOSE
Painting by Rachel Castle
HOLY HELL embroidery by Rachel Castle