Ava DuVernay Says It's Time We All Craft Our Own Stories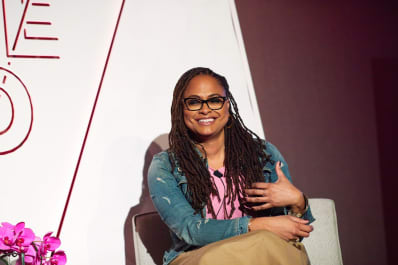 (Image credit: Chris Swoszowski, Courtesy of W Hotels Worldwide)
We're big fans of multi-hyphenate Ava DuVernay (Director-Writer-Producer). Whether we're streaming her hit show, Queen Sugar, at home on Hulu, or watching her make history with her film's Oscar nods, the director of the new movie A Wrinkle In Time is also making a name for herself speaking out on Hollywood sexism and racism in this post-Weinstein and Time's Up era.
With International Women Day quickly approaching on March 8th, we've seen others like Tracee Ellis Ross write a "children's book" about appropriate behavior in the workplace and Penguin publishers open a pop-up devoted solely to books by female authors, and DuVernay has been especially outspoken on said topics.
In her recent interview with the Washington Post, DuVernay queried if she will receive the same respect world-building behind the camera equal to the likes of Steven Spielberg or James Cameron. "All of those guys," she says. "They can build worlds. Will you respect my world? Me building a planet?"
DuVernay dished further at an event this past week at the W Hollywood, to a small crowd gathered for What She Said, W Hotel's initiative that celebrates femininity and provides safe spaces for conversation to drive progress in the gender equality movement.
(Image credit: Chris Swoszowski, Courtesy of W Hotels Worldwide)
DuVernay highlighted the importance of people being empowered to craft their own stories — strong females crafting stories about other strong women, African Americans reflecting their own experiences in media. "There was a time in Hollywood when Hollywood said 'we will tell your story, aren't we great for telling your story?' That time has passed — and that time was important. We went from 'ya'll don't deserve no stories', to 'we're going to tell your story', to, you know what, 'we're going to tell our own story,'" says DuVernay.
DuVernay's discussion kicked off the 2018 What She Said schedule which includes events throughout the year. In April, the series is slated to feature a conversation on design, in Amsterdam, featuring Antoinette van den Berg, Spijkers & Spijkers, Alexandra Frida, Bibi van der Velden and Loes Vrij. This will be following in May by a program focusing on women in architecture, to take place in New York, in conjunction with NYC Design Week.