Introducing Erin & Ken's Backyard Redesign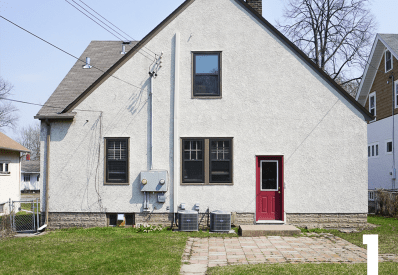 (Image credit: Submitted by Erin & Ken)
Name: Erin & Ken Francois
Type of Project: Backyard Redesign
Location: Upper Tangletown — Minneapolis, Minnesota
Type of building: 1930s Tudor-Style Duplex
The Renovation Diaries are a collaboration with our community in which we feature your step-by-step renovation progress and provide monetary support towards getting it done in style. See all of our Reno Diaries here.
Spring has sprung and Erin and Ken are itching to fix up their gloriously large backyard for grilling season. They've got great plans (including a fire pit) and the oh-so-important willingness to get their hands dirty, so let's see what they're working with shall we?
(Image credit: Submitted by Erin & Ken)
From Erin & Ken:
As the snow melts amid the first Spring in our newly purchased duplex, we're really starting to get a sense of our backyard space and hope to transform it from an outdated, bare yard into an inspired, multi-functional outdoor area for both our awesome tenant and us to enjoy during the warmer months.
(Image credit: Submitted by Erin & Ken)
(Image credit: Submitted by Erin & Ken)
(Image credit: Submitted by Erin & Ken)
(Image credit: Submitted by Erin & Ken)
Our goals are ambitious but totally do-able:
Refocus the patio area and path to garage/driveway: The plan is to tear out the outdated red & green patio/cracked concrete path to the garage, and replace both areas with pavers more in keeping with the 1930s Tudor style of our home. The patio area will be reshaped and moved slightly to the right allowing us a bit more lawn to play with. We're choosing to stay with patio pavers, instead of adding a deck platform, in an effort to keep a level plane with the rest of our small lawn.
Build a wooden enclosure for the cement stoop.
Paint the back door, add a screen door and an exterior light above the door.
Define dining, grill & lounge/fire pit areas: We plan to include dining for 4-6, grill, umbrella, fire pit, lounge seating for 4, cafe lights, potted plantings.
Build A/C fence enclosure
Create raised vegetable gardens on the south side of the home.
Clean up existing plantings and add additional plantings around the perimeter of the yard for privacy.
Replace the garage man door.
Tear down the old rusty laundry line.
(Image credit: Submitted by Erin & Ken)
(Image credit: Submitted by Erin & Ken)
(Image credit: Submitted by Erin & Ken)