Erin & Ken's Backyard: Make Our Garden Grow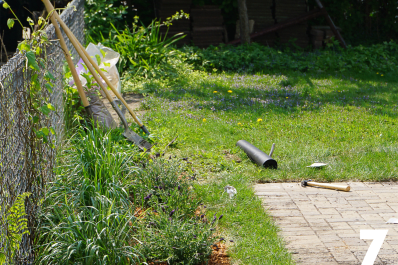 (Image credit: Submitted by Erin & Ken)
Name: Erin & Ken
Type of Project: Backyard Redesign
Location:Upper Tangletown — Minneapolis, Minnesota
Type of building: 1930s Tudor-Style Duplex
The Renovation Diaries are a collaboration with our community in which we feature your step-by-step renovation progress and provide monetary support towards getting it done in style. See all of our Reno Diaries here.
This past weekend we had out-of-town family staying with us, so we didn't accomplish quite as much as we had originally planned. However, we (including our tenant, Heather) planted our vegetable gardens in the new raised beds built last weekend.
(Image credit: Submitted by Erin & Ken)
We also planted prairie grass along the south edge of the patio, which we hope, over the summer, will grow to be between five and six feet tall, and provide some much needed privacy for the patio. In addition to the prairie grass, we also planted a row of lavender (Minnesota-suitable) in hopes that it may act as a bit of a mosquito repellent for the patio, not to mention it looks and smells amazing!
(Image credit: Submitted by Erin & Ken)
Next weekend, we'll be building a modern grid trellis, finishing up the perimeter yard plantings, and laying a stepping stone path along the raised garden beds.
(Image credit: Submitted by Erin & Ken)
Estimated time for project: 7 weeks
Time remaining: 3 Weeks
Perecent Done: 50%