'Bad Times at the El Royale' Toes the (State) Line Between '60s Classic and Kitsch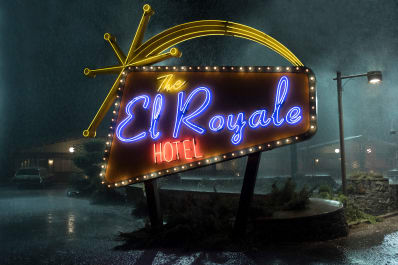 (Image credit: Kimberley French)
"Bad Times at the El Royale" offers a good time for anyone who appreciates period design. The gripping mystery thriller, which Fox releases in theaters on Oct. 12, sees Jon Hamm, Jeff Bridges, Cynthia Erivo and Dakota Johnson checking into the titular resort, a once-glorious has-been hotel that captures the glamour of the 1960s with the conceptual aesthetics of the American West.
(Image credit: Kimberley French)
Such a combination is an optical indulgence for both the viewer and production designer Martin Whist. "The era was bold and bizarre in its decisions — verging on over-the-top tacky, but there's still a fun and elegance and freshness to it," he explains. "This set was like a kaleidoscope of different combinations of visual elements that had to create an impression as a whole, but also have enough vibrance and complexity in each frame for close-ups. But, when you take it out of context, it's like, really?"
(Image credit: Kimberley French)
The key to designing for a film set in the '60s, a period portrayed onscreen quite often, is, surprisingly, to veer away from the era's now-iconic furniture pieces. "The reality of the time period is not everybody had an Eames chair," says Whist. Instead, he recreated the then-popular form choices: the lobby's expansive open floor plan and sunken gathering area, the guest rooms' pairing of unexpected patterns, the overall mix of multiple textures.
(Image credit: Kimberley French)
All of furniture pieces were custom-made; even the wallpaper was printed using 1950s techniques. Plus, the film was shot anamorphic, a format that's so low and wide that more shots than usual include its floors and ceilings, elements less emphasized on other sets. "I didn't get anything off the shelves. It was really fun to have a wide range of unusual combinations of colors and surfaces."
(Image credit: Kimberley French)
The geographical draw of the El Royale is its Lake Tahoe-adjacent location on the state line between California and Nevada. "Warmth and sunshine to the west; hope and opportunity to the east," says Lewis Pullman as the concierge, who explains to each guest that the hotel's halves have distinct designs and amenities.
(Image credit: Kimberley French)
"California is all warm colors and textures, and Nevada is all cooler lavenders and purples, and lots of reflective surfaces," says Whist on incorporating woods and mirrors, respectively. The lobby is bisected by a large red line that leads to its centerpiece: a jukebox. "We wanted a pretty authentic piece, and the colors needed to break all the rules, since it's neither in California or Nevada," explains Whist, who is impressed that set decorator Hamish Purdy salvaged the jukebox, two roulette wheels and two dozen slot machines that are genuine of the period. "I thought the jukebox would be the big scary thing to find, but Hamish knocked that one out pretty quickly!"
(Image credit: Kimberley French)
Since the El Royale doesn't exist in real life, the oversized offering is actually a 10,000-square-foot set built on a 60,000-square-foot stage at Mammoth Studios in Burnaby, just outside Vancouver, British Columbia. The entire set had to be pre-planned and mapped to fit the "spatial choreography" of the script, meaning that the placement of every wall and furniture piece was determined by the blocking of each character in every scene. Still, one section of the set — two seating nooks in which Pullman aims to "confess" to Bridges onscreen — remains Whist's favorite: "I'd have meetings with my art department in those little areas."
(Image credit: Kimberley French)
Whist, who previously collaborated with writer-director Drew Goddard on "Cloverfield" and "The Cabin in the Woods," admitted he didn't initially realize how much attention to detail El Royale would require. "It was like, if Drew is in, then I'm in," he says. "But also, by default, I know that working with Drew is going to be rigorous and intense and very meticulously executed, and that's why I like working with him."
(Image credit: Kimberley French)
To serve Goddard's plot, the El Royale is outfitted with regulation-approved fire and rain capabilities. "If it's for the story, that's just part of it," says Whist of watching his designs get demolished. In fact, it's a phase he appreciates. "I actually love when my sets get destroyed. The love I have is of the process of making it, and once the shoot is done, it's served its purpose and I'm completely satisfied. The destruction is the final move, and when it gets bulldozed, it's very liberating."