Balenciaga's Back With a $1,100 Version of Their Own Shopping Bag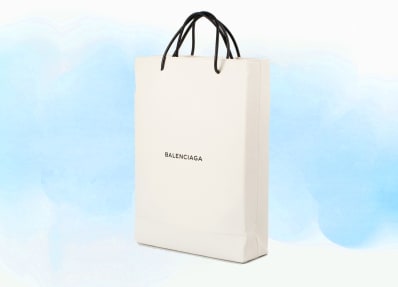 (Image credit: Background image TairA/Shutterstock)
Today in ridiculous bag news, we've got one from repeat offender, Balenciaga. This time, they're knocking off themselves with an upscale version of their own shopping bag.
Unless you recently joined us from a planet far, far way, you probably remember that in April, the French fashion house caused quite a stir when they created a $2,145 knockoff of IKEA's iconic FRAKTA tote. (To quickly recap for our new alien friends/overlords, IKEA then responded with a hilarious ad, FRAKTA became the new duct tape when everyone started crafting clothing from the tote, and IKEA made a very cinematic commercial about the "hardest working bag in the world.")
Back to present day, where the brand created another exceptionally expensive object out of something that isn't: their very own shopping bag. The original one can be had for pennies (or with a Balenciaga purchase), while the calfskin and Nappa leather version—which is exceptionally accurate in its appearance to a paper bag—sells for €995 ($1,114) at French retailer Colette. Colette, coincidentally, collaborated with IKEA for their own version of the FRAKTA, coming to US stores in 2018.
(Image credit: Poshmark / Colette via BuzzFeed)
According to Colette, the bag is part of an exhibition and collection curated by the fashion house's creative director Demna Gvasalia, happening at Colette's Paris store from June 19 to August 5. The Balenciaga Men's Fall Winter 2017 collection will be displayed, as well as a selection of classic Balenciaga Women collection pieces. There will also be several exclusive products, from sleeping masks to mugs, that have been specially developed in limited quantities for the event and branded with Balenciaga logos.
The bag is already sold out (eye roll emoji), but you can sign up to be notified when it's back in stock.
We have one burning question though—does the leather bag come in a matching shopping bag?
h/t Refinery29, BuzzFeed