This Is 2021's Most Popular Bathroom Trend, According to Google and Instagram
We independently select these products—if you buy from one of our links, we may earn a commission. All prices were accurate at the time of publishing.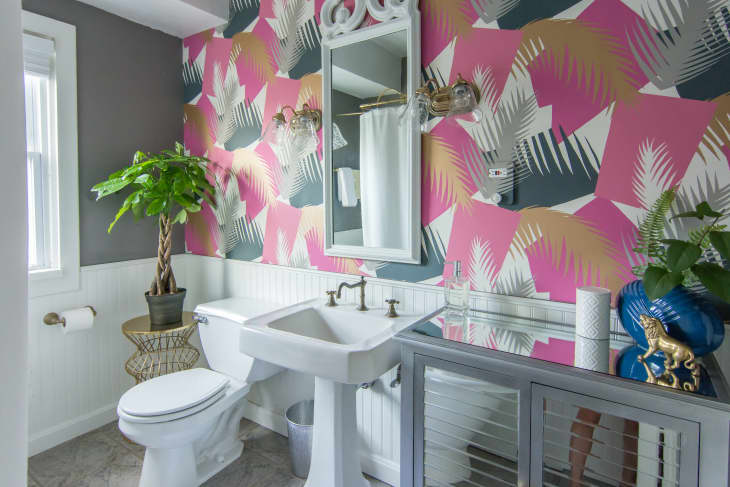 According to Google, wallpaper is becoming more and more a-peel-ing (sorry, interior design joke).
Follow Topics for more like this
Follow for more stories like this
In a study by U.K.-based home supply company PlumbNation, the material is this year's most popular bathroom trend. By collecting search data and Instagram hashtags, they were able to determine the most talked-about bathroom topics.
It's quite surprising that bathroom wallpaper came in at number one, given its issues with peeling and bubbling. But still, Google searches for the material increased 33.8 percent from last year in the U.K., as well as a 200 percent rise in searches for "wallpaper for your bathroom." Over on Instagram, the hashtag #BathroomWallpaper has more than 12,000 related posts.
If you're looking to try it out, make sure to choose moisture-resistant wallpaper like vinyl, and keep your bathroom well-ventilated to lessen humidity. Otherwise, your wallpaper could succumb to bubbling and peeling, or worse, mold.
"These toxigenic molds can become airborne and travel, and can even cause skin irritation or infections," expert Adam Leech told The Huffington Post UK.
As long as you control the humidity, it's easy to see why wallpaper is gaining popularity for bathrooms. It's often more affordable and easier to install than tiles, and peel-and-stick varieties are great for renters as well as homeowners.
The rest of the list, meanwhile, is dominated by searches for bathroom colors. At second place is black and white, while pink is revealed to be the next most popular color for bathrooms (#4). Black comes in fifth, and pink and green as a combo ranks sixth in searches. Not to be outdone by wallpaper, terrazzo tiles make the list in third place.