Our Favorite Vacuum Deals (Including Dyson and Roomba!) from Bed Bath & Beyond's Huge Floor Care Sale
We independently select these products—if you buy from one of our links, we may earn a commission. All prices were accurate at the time of publishing.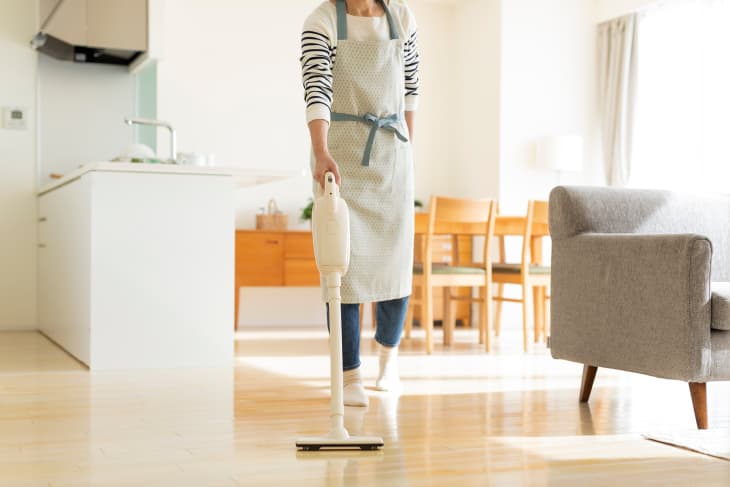 Aah, spring cleaning! What was once an annual event now feels like a constant state of mind. With many of us spending the majority of our time at home, our living surfaces are getting a lot more traffic than usual. Between kitchen spills from mini chefs, pet hair, and anything else that gets tracked in on hard surfaces or carpets, keeping our homes spotless right now is a real struggle. If you've been waiting for the right time to upgrade your old vacuum to something that can make cleaning a little more enjoyable (it's a thing), look no further than Bed Bath & Beyond's massive vacuum and floor-care sale. With deep discounts on top models from high-end brands like Dyson, Shark, iRobot, and Bissell, there's a perfect solution for messes and living spaces of all sizes. Here are all the best vacuum deals we're most excited about right now. 
Follow Topics for more like this
Follow for more stories like this
1. Dyson V8 Animal Cord-free Stick Vacuum in Nickel/Titanium
One of Dyson's most popular cordless stick vacuums, the V8 Animal is equipped with a powerful, high-suction motor that can run nonstop for up to 40 minutes. Weighing just over five pounds, the lightweight vacuum is great for everyday messes, while the added attachments are perfect for deep cleaning areas like carpeted floors, tight nooks and crannies, as well as upholstered furniture. The compact design can fit in an apartment closet or pantry, making it easy to charge and grab to clean up accidents, or for quick spot-cleaning.

Buy: Dyson V8 Animal Cord-free Stick Vacuum in Nickel/Titanium, $300 (normally $400)
2. iRobot Roomba Wi-Fi Connected Robot Vacuum
Pet owners: If you feel like you're losing the battle against pet hair and dander, it may be time to get a robotic vacuum. The iRobot Roomba is equipped with a powerful filter that traps 99 percent of cat and dog allergens, and can be programmed to run for up to 90 minutes through your home — no matter the surface — before docking to recharge. Since it's Wi-Fi enabled, you can control the Roomba's schedule via the iRobot app, or your Amazon or Google smart home devices. 

Buy: iRobot Roomba Connected Robot Vacuum, $300 (normally $350)
3. Shark Rotator Powered Lift-Away with Self-Cleaning Brushroll Upright Vacuum
A large upright vacuum like this 1,150-watt model from Shark is a workhorse in high-traffic homes with kids, pets, or just a lot of activity. Its self-cleaning brush roll can pick up pet or human hair without needing to be detangled before moving onto the next area. The canister converts to a compact vacuum for cleaning stairs, and the head can be removed so it functions like a wand to capture dust bunnies or clean hard-to-reach corners. Hand controls let you switch from hard floor to carpet mode, depending on the surface. No matter where you're cleaning, fine particulates are captured within the vacuum's enclosed Anti-Allergen system and HEPA filter, so you don't kick up more dirt as you go. 

Buy: Shark Rotator Powered Lift-Away with Self-Cleaning Brushroll Upright Vacuum, $280 (normally $400)
4. Bissell ICONPet Pro High-Powered Cordless Vacuum in Copper
Many cordless vacuums lack suction and cleaning speed, but Bissell's ICONPet Pro uses a rechargeable battery that powers a digital motor that moves as fast as 420 mph. Translation: It's incredibly fast. Plus, a tangle-free brush roll constantly rotates to pick up pet hair, and for small cleanups, the stick disassembles to convert into a handheld vacuum. Accessories like an LED-lighted crevice tool, pet-dusting brush, and hard-surface brush roll make it a versatile and compact option for any size home.

Buy: Bissell ICONPet Pro High-Powered Cordless Vacuum in Copper, $300 (normally $400)
5. Shark WANDVAC Cord-Free Handheld Vacuum
Think of this cordless, lightweight vacuum from Shark as the extra set of hands you need for quick, everyday cleanups in the kitchen. It can whisk away coffee grounds or bread crumbs from kitchen countertops and takes up minimal space when charging between jobs. The included crevice tool can reach into tight areas in your car and furniture, and there's even a multi-surface pet attachment for quick pet hair removal. When the dust cup is full, it can be emptied — hands-free — directly into the trash with the touch of a button.

Buy: Shark WANDVAC Cord-Free Handheld Vacuum, $100 (normally $140)
6. Dyson Ball Animal 2 Upright Vacuum
Dyson's Animal 2 upright vacuum is great for homes with animals or anyone who is highly sensitive to allergens. The entire machine is equipped with HEPA filtration, and the cleaner head is self-adjusting to remove the maximum amount of dirt, allergens, and pet hair on everything from hard surfaces to crevices to carpets. The extra-wide cleaning head means you'll need fewer passes in large living areas. And since the 1,400-watt motor is powered by electricity, you'll never have to worry about losing suction.

Buy: Dyson Ball Animal 2 Upright Vacuum, $380 (normally $500)
7. iRobot Braava jet Wi-Fi Connected Robot Mop
The only thing better than a robotic vacuum is a robotic mop that makes hardwood, tiled, and stone floors sparkle. Like iRobot's Roomba, the Braava's smart mapping technology enables it to learn, map, and adapt to your living space, and navigate around items and even under furniture. The mop is loaded with a cleaning solution that spritzes hard surfaces, which it then cleans with disposable pads. In high-traffic areas like the kitchen, you can program your mop to clean while you sleep, so you always wake up to shiny, clean floors. The best part, though? You'll never need to fill another bucket of warm, soapy water again!

Buy: iRobot Braava jet Wi-Fi Connected Robot Mop, $450 (normally $500)