Before & After: A Bold Mural Stays True to This House's 1960s Roots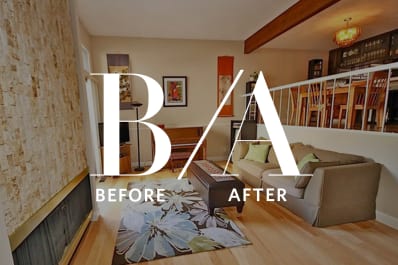 Christina's living room wasn't unsightly by any means, but she wanted the space to be a reflection of the people living there. With the help of a contractor, our good pal IKEA and her own design sense, she turned the room into a fun and colorful space.
From Christina: Before we made our changes, the townhouse didn't have a lot of updates besides the flooring. There were still a lot of design elements from when it was built in the late 60s that we wanted to update.
We wanted to make our new home feel more youthful, vibrant and happy, just like our personalities. This was our first home together so we wanted it to reflect us and our energy.
We used a great contractor, IKEA, a talented muralist and our own eye. We designed everything ourselves (without any design experience!) and although there were a LOT more decisions we ever thought we needed to make, it was well worth the result. We love our new home and look forward to hanging out in this living room every day. We started in December and it took about two months to finish the entire first floor (kitchen and living room). Our living room is now our favorite place to spend time together.
We love the colors, the brightness and aqua touches. We wouldn't do anything differently!
We started with the furniture and wanted both form and function and kept them gray to leave room for loads of splashes of color. The rose gold lights immediately caught our attention at a store we found called Cantoni so we built the rest of the room around these light fixtures. We had so much wall space it seemed like a waste to leave it white, so we hired an artist to design our geometric mural as the final touch.
Words of wisdom: Take your time, research a lot of other designs that you feel reflect your style and personality before actually executing. Use every digital resource available to you, ask questions online and in-person at any design and home store. Don't be afraid to go big or bold. Try not to ask too many friends and family for opinions, because at the end of the day it will be YOU coming home to your finished product.
Thank you, Christina!