Benjamin Moore's 2018 Color of the Year is So Hot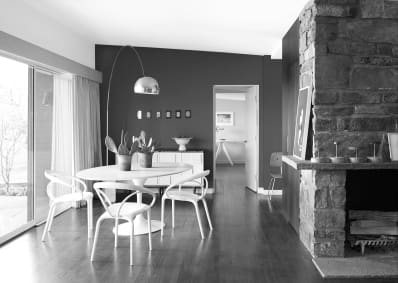 (Image credit: John Bessler)
The 2018 Colors of the Year keep on coming. So far, paint companies have gone for black, neutrals, and blues, but the folks at Benjamin Moore are surprising us again (remember when they picked white?). Their color choice for next year is straight up sizzling.
(Image credit: John Bessler)
The vibrant red with a hint of orange is the opposite of keeping your cool. "Strong, radiant and full of energy, Caliente AF-290 is total confidence. It is pleasing, passionate and makes people feel special, like 'red carpet treatment'," said Ellen O'Neill, Benjamin Moore Director of Strategic Design Intelligence. "Whether used as one note or on four walls, the spirited personality of red turns heads signaling surprise and adventure. The eye can't help but follow its bold strokes."
Bold is an understatement. Red commands attention, for sure. We've written here about ways to decorate with the fiery hue in the past, including using it as an accent in a mostly neutral room, like the dining room above. Adrienne even used her supreme GIF making skills to alert us to how much of a punch a little bit of red can pack:
If you're ready for red (or need some more convincing), here are some amazing examples of the color in action in our House Tours:
(Image credit: Nicole Crowder)
What do you think of Caliente: Is it hot or not? Tell us in the comments.